Over the course of 109 editions (up to 2022), the Tour de France has been won by 36 different bike brands. Many of these brands are unknown to cycling fans today. Only a handful of brands, such as Colnago, Pinarello, Specialized, and Trek are synonymous with the fans today.
The road bike industry has undergone massive change and innovation in the past 20 years with the introduction of new technologies such as electronic shifting, carbon fiber frames, disc brakes, and tubeless tires.
This article will go back in history and explore the bike brands that have won the Tour de France.
Pinarello – 15 wins
Pinarello has a long history in cycling, dating back to 19534, when it was founded by Giovanni Pinarello in Treviso, Italy. With 15 Tour de France wins, Pinarello is by far the most successful bike brand at the La Grande Boucle.
Pinarello's dominance can be summed up in two eras; the mid-1990s and the mid-2010s. Miguel Indurain won four consecutive Tour de France from 1992 to 1995, followed by Bjarne Riis (1996) and Jan Ullrich (1997). Team Sky (Ineos-Grenadiers) won seven Tour de France with Bradley Wiggins (2012), Chris Froome (2013, 2015, 2016, 2017), Geraint Thomas (2018), and Egan Bernal (2019).
Today, Pinarello's top-of-the-line bike is the Pinarello Dogma F.
More reading : Pinarello Road Bike Line Up Explained
L'Auto – 10 wins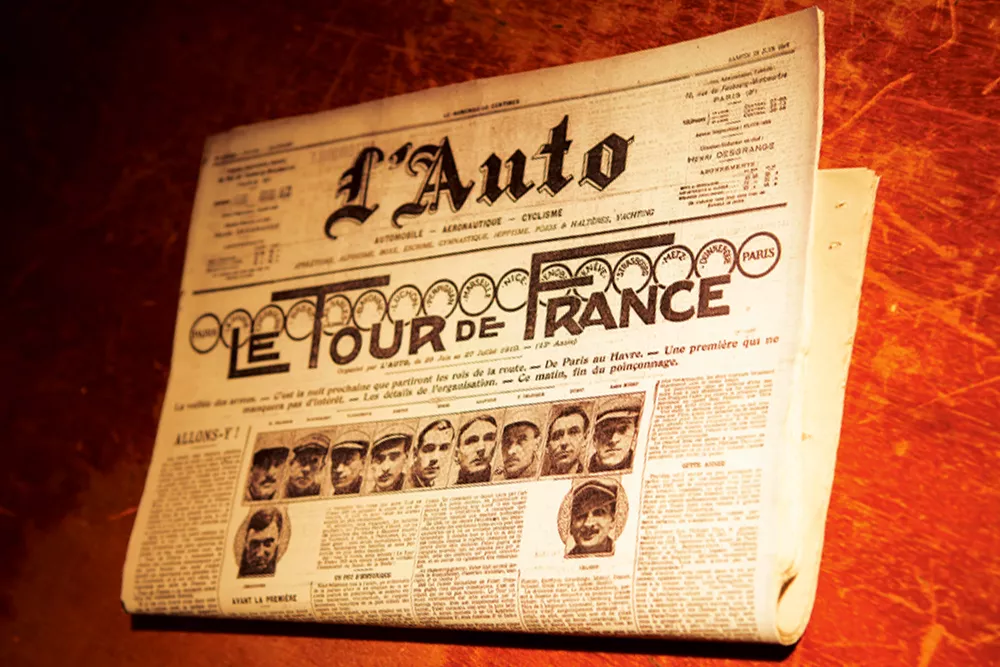 L'Auto is not a bike brand, but the French newspaper that started the Tour de France in 1903.
From 1930 to 1939, Henri Desgrange, who was the newspaper required all riders to paint their bikes' downtube with L'Auto as part of the marketing campaign and publicity stunt to increase the profile of the race.
During that period, riders competed based on national teams, so there wasn't any commercial conflict of interest.
Peugeot – 10 wins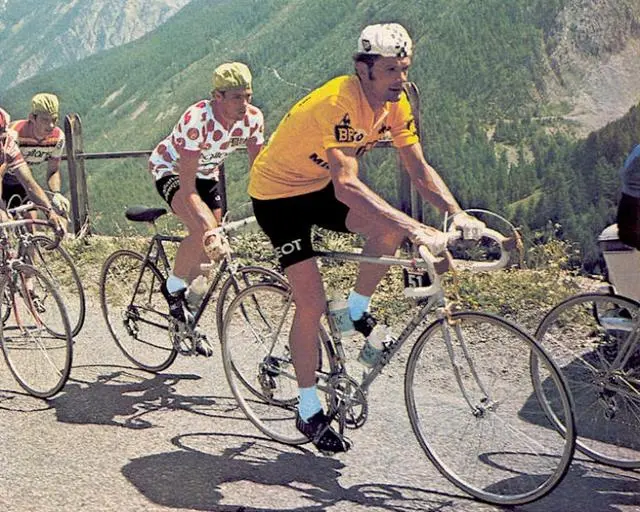 Today, most of us know Peugeot as the French automotive brand. Peugeot started making bicycles way back in 1882 and won their first Tour de France with Louis Trousselier in 1905 and their last win came in 1977 with Bernard Thévenet.
In the past 50 years, the bicycle arm of Peugeot has gone through various ownership. Today it's part of Cycleuope which owns owner bike brands such as Bianchi and Gitane Unknown to many, Peugeot actually has a complete bike line up from road to mountain, city, kids, and electric bikes.
Gitane – 9 wins
Gitane is a French brand that was synonymous with racing from the mid-1960s to the mid-1980s. All nine of Gitane's Tour de France wins occurred during this period with legendary French riders such as Bernard Hinault (4), Jacques Anquetil (2), Laurent Fignon (2), and Belgian Lucien Van Impe (1).
Today, Gitane is part of Cycleuope, which also owns Bianchi and Peugeot bike brands. Gitane produces mostly city and mountain bikes today. They don't have much presence outside of France.
Trek – 9 wins
Founded in 1976, Trek is one of the leading bike brands today with its own mens' and womens' World Tour team.
Trek's first Tour de France win was in 1999 by Lance Armstrong. For the next seven years until 2005, Lance Armstrong dominated the Tour de France, helping to raise Trek's profile in the United States and worldwide. In 2012, all seven of Lance's Tour de France wins were nulled.
The other two Tour de France wins occurred with Alberto Contador in 2007 and 2009.
Trek offers the riders three types of road bikes; Emonda (lightweight), Madone (aero) and Domane (endurance), and the Speed Concept (TT).
More reading : Trek Road Bikes Line Up Explained
Alcyon – 7 wins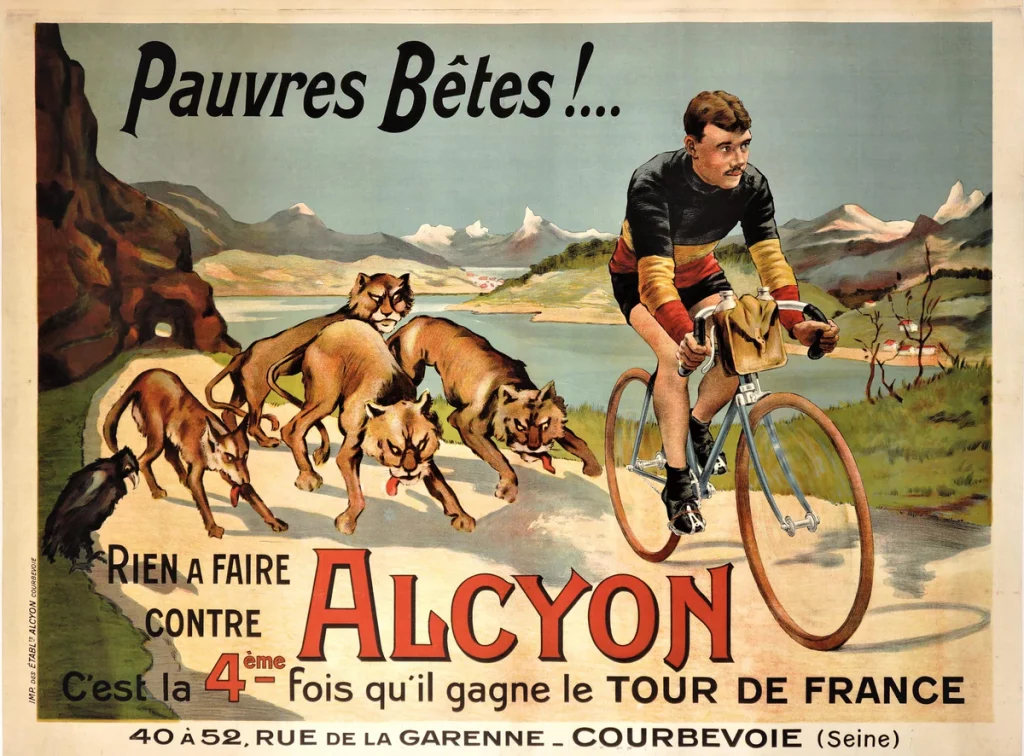 Alcyon was a French bicycle, motorcycle, and automotive brand that was active from 1903 to 1954. They sponsored their own cycling team from 1905 to 1959, under different names such as Alcyon-Dunlop, Alcyon-Soly, Alcyon-Armor, and Alcyon-Leroux
Their first Tour de France win was in 1909 with François Faber, a Luxembourgian rider. Their last win was in 1929 with Belgian, Maurice De Waele. From 1930 onwards, the Tour de France organizers required the teams to paint their bikes' downtube with L'Auto, which is the newspaper that started the Tour de France.
Eddy Merckx – 5 wins
Eddy Merckx is no stranger to cycling fans. He's widely known as the most successful cyclist of all time, winning the Tour de France (5 times), Giro d' Italia (5 times), and 34 Tour de France stages.
The Eddy Merckx brand was only started in 1980 after he retired. Eddy Merckx was riding bikes built by Masi and Kessels with his name painted on the downtube for his five Tour de France wins.
In 2008, Eddy Merckx sold all his shares in the company to Sobradis, a Belgian holding company. In 2017, another Belgian company, Race Productions, which also owns Ridley Bikes, took over Eddy Merckx after struggling with sales for the past decade.
Automoto – 4 wins
Automoto was a French bicycle and motorcycle manufacturer that started in 1902. It was the dominant bike brand in the mid-1920s, with four consecutive Tour de France wins from 1923 to 1923 with three different riders.
In 1930, it was bought by Peugeot and sadly discontinued in 1962.
Bianchi – 3 wins
Bianchi is the oldest bicycle manufacturing company today. It was founded in Italy back in 1885 by Edoardo Bianchi who was a 21-year-old medical instrument maker.
All of Bianchi's three Tour de France wins were achieved by Italian riders. Fausto Coppi won in 1949 and 1952 and Marco Pantini won in 1998. Bianchi was present at the World Tour with Team BikeExchange (2021) and Team Jumbo-Visma (2014 to 2020).
Today, Bianchi bikes are known for their Celeste color, which is also known as Bianchi Green.
Colnago – 3 wins
Colnago is one of the currently active bike brands that have a long history, dating back to 1952. It was founded by Ernesto Colnago near Milan, Italy. In May 2020, Chimera Investments LLC, which is based in the UAE acquired a majority stake in Colnago.
Colnago's first Tour de France win was in 1960 by Italian rider, Gastone Nencini. It was a long 60-year wait for their second win until Tadej Pogačar won two consecutive Tour de France in 2020 and 2021. He also picked up the Best Young Rider and Climber Classification in these two years.
In 2022, Tadej Pogačar will be riding the Colnago V3Rs in an attempt to win his third consecutive Tour de France General Classification.
Helyett – 3 wins
Helyett is a little-known French bicycle manufacturer that was started by the Picard brothers in 1926. It took its name from a lead character from a late 19th-century play, Miss Helyett, which is why the Helyett logo has a young women's face on it.
Frenchman, Jacques Anquetil won three of his five Tour de France onboard a Helyett bike in 1957, 1961, and 1962.
La Sportive – 3 wins
La Sportive's three Tour de France wins occurred right after World War 1, from 1919 to 1921. Right after the war, Europe was in a bad shape and many of the bicycle manufacturers were either out of business or don't have the manufacturing capabilities.
The remaining brands, such as Alcyon, Armor, Automoto, Clément, La Française, Gladiator, Griffon, Hurtu, Labor, Liberator, Peugeot, and Thomann came together and provided more than half the peloton with various bicycles and components so that the Tour de France can take place.
Once each individual brand recovered from the aftermath of World War 1, La Sportive disbanded in 1922.
Tour de France Winning Bikes, 1903 to 2021
| Year | Winner's name | Nationality | Team | Bike brand |
| --- | --- | --- | --- | --- |
| 1903 | Maurice Garin | France | La Française | La Française |
| 1904 | Henri Cornet | France | Conte | Conte |
| 1905 | Louis Trousselier | France | Peugeot-Wolber | Peugeot |
| 1906 | René Pottier | France | Peugeot-Wolber | Peugeot |
| 1907 | Lucien Petit-Breton | France | Peugeot-Wolber | Peugeot |
| 1908 | Lucien Petit-Breton | France | Peugeot-Wolber | Peugeot |
| 1909 | François Faber | Luxembourg | Alcyon-Dunlop | Alcyon |
| 1910 | Octave Lapize | France | Alcyon-Dunlop | Alcyon |
| 1911 | Gustave Garrigou | France | Alcyon-Dunlop | Alcyon |
| 1912 | Odile Defraye | Belgium | Alcyon-Dunlop | Alcyon |
| 1913 | Philippe Thys | Belgium | Peugeot-Wolber | Peugeot |
| 1914 | Philippe Thys | Belgium | Peugeot-Wolber | Peugeot |
| 1919 | Firmin Lambot | Belgium | La Sportive | La Sportive |
| 1920 | Philippe Thys | Belgium | La Sportive | La Sportive |
| 1921 | Léon Scieur | Belgium | La Sportive | La Sportive |
| 1922 | Firmin Lambot | Belgium | Peugeot-Wolber | Peugeot |
| 1923 | Henri Pélissier | France | Automoto-Hutchinson | Automoto |
| 1924 | Ottavio Bottecchia | Italy | Automoto | Automoto |
| 1925 | Ottavio Bottecchia | Italy | Automoto-Hutchinson | Automoto |
| 1926 | Lucien Buysse | Belgium | Automoto-Hutchinson | Automoto |
| 1927 | Nicolas Frantz | Luxembourg | Alcyon-Dunlop | Alcyon |
| 1928 | Nicolas Frantz | Luxembourg | Alcyon-Dunlop | Alcyon |
| 1929 | Maurice De Waele | Belgium | Alcyon-Dunlop | Alcyon |
| 1930 | André Leducq | France | Alcyon-Dunlop | L'Auto |
| 1931 | Antonin Magne | France | France | L'Auto |
| 1932 | André Leducq | France | France | L'Auto |
| 1933 | Georges Speicher | France | France | L'Auto |
| 1934 | Antonin Magne | France | France | L'Auto |
| 1935 | Romain Maes | Belgium | Belgium | L'Auto |
| 1936 | Sylvère Maes | Belgium | Belgium | L'Auto |
| 1937 | Roger Lapébie | France | France | L'Auto |
| 1938 | Gino Bartali | Italy | Italy | L'Auto |
| 1939 | Sylvère Maes | Belgium | Belgium | L'Auto |
| 1947 | Jean Robic | France | France | Génial-Lucifer |
| 1948 | Gino Bartali | Italy | Italy | Legnano |
| 1949 | Fausto Coppi | Italy | Italy | Bianchi |
| 1950 | Ferdinand Kübler | Switzerland | Switzerland | Fréjus |
| 1951 | Hugo Koblet | Switzerland | Switzerland | La Perle |
| 1952 | Fausto Coppi | Italy | Italy | Bianchi |
| 1953 | Louison Bobet | France | France | Stella |
| 1954 | Louison Bobet | France | France | Stella |
| 1955 | Louison Bobet | France | France | Mercier |
| 1956 | Roger Walkowiak | France | France | Géminiani |
| 1957 | Jacques Anquetil | France | France | Helyett |
| 1958 | Charly Gaul | Luxembourg | Luxembourg | Guerra |
| 1959 | Federico Bahamontes | Spain | Spain | Coppi |
| 1960 | Gastone Nencini | Italy | Italy | Colnago |
| 1961 | Jacques Anquetil | France | France | Helyett |
| 1962 | Jacques Anquetil | France | Saint-Raphaël-Helyett-Hutchinson | Helyett |
| 1963 | Jacques Anquetil | France | Saint-Raphaël-Gitane-R. Geminiani | Gitane |
| 1964 | Jacques Anquetil | France | Saint-Raphaël-Gitane-Dunlop | Gitane |
| 1965 | Felice Gimondi | Italy | Salvarani | Magni |
| 1966 | Lucien Aimar | France | Ford France-Hutchinson | Géminiani |
| 1967 | Roger Pingeon | France | Peugeot-BP-Michelin | Peugeot |
| 1968 | Jan Janssen | Netherlands | Pelforth-Sauvage-Lejeune | Sauvage-Lejeune |
| 1969 | Eddy Merckx | Belgium | Faema | Eddy Merckx |
| 1970 | Eddy Merckx | Belgium | Faemino-Faema | Eddy Merckx |
| 1971 | Eddy Merckx | Belgium | Molteni | Eddy Merckx |
| 1972 | Eddy Merckx | Belgium | Molteni | Eddy Merckx |
| 1973 | Luis Ocaña | Spain | Bic | Motobécane |
| 1974 | Eddy Merckx | Belgium | Molteni | Eddy Merckx |
| 1975 | Bernard Thévenet | France | Peugeot-BP-Michelin | Peugeot |
| 1976 | Lucien Van Impe | Belgium | Gitane-Campagnolo | Gitane |
| 1977 | Bernard Thévenet | France | Peugeot-Esso-Michelin | Peugeot |
| 1978 | Bernard Hinault | France | Renault-Gitane-Campagnolo | Gitane |
| 1979 | Bernard Hinault | France | Renault-Gitane | Gitane |
| 1980 | Joop Zoetemelk | Netherlands | TI-Raleigh-Creda | Raleigh |
| 1981 | Bernard Hinault | France | Renault-Elf-Gitane | Gitane |
| 1982 | Bernard Hinault | France | Renault-Elf-Gitane | Gitane |
| 1983 | Laurent Fignon | France | Renault-Elf | Gitane |
| 1984 | Laurent Fignon | France | Renault-Elf | Gitane |
| 1985 | Bernard Hinault | France | La Vie Claire | Hinault |
| 1986 | Greg LeMond | United States | La Vie Claire | Look |
| 1987 | Stephen Roche | Ireland | Carrera Jeans-Vagabond | Battaglin |
| 1988 | Pedro Delgado | Spain | Reynolds | Pinarello |
| 1989 | Greg LeMond | United States | AD Renting-W-Cup-Bottecchia | Bottecchia |
| 1990 | Greg LeMond | United States | Z-Tomasso | Greg LeMond |
| 1991 | Miguel Indurain | Spain | Banesto | Razesa |
| 1992 | Miguel Indurain | Spain | Banesto | Pinarello |
| 1993 | Miguel Indurain | Spain | Banesto | Pinarello |
| 1994 | Miguel Indurain | Spain | Banesto | Pinarello |
| 1995 | Miguel Indurain | Spain | Banesto | Pinarello |
| 1996 | Bjarne Riis | Denmark | Team Telekom | Pinarello |
| 1997 | Jan Ullrich | Germany | Team Telekom | Pinarello |
| 1998 | Marco Pantani | Italy | Mercatone Uno-Bianchi | Bianchi |
| 1999 | Lance Armstrong | United States | US Postal Service | Trek |
| 2000 | Lance Armstrong | United States | US Postal Service | Trek |
| 2001 | Lance Armstrong | United States | US Postal Service | Trek |
| 2002 | Lance Armstrong | United States | US Postal Service | Trek |
| 2003 | Lance Armstrong | United States | US Postal Service | Trek |
| 2004 | Lance Armstrong | United States | US Postal Service-Discovery Channel | Trek |
| 2005 | Lance Armstrong | United States | Discovery Channel | Trek |
| 2006 | Óscar Pereiro | Spain | Caisse d'Epargne-Illes Balears | Pinarello |
| 2007 | Alberto Contador | Spain | Discovery Channel | Trek |
| 2008 | Carlos Sastre | Spain | Team CSC | Cervélo |
| 2009 | Alberto Contador | Spain | Astana | Trek |
| 2010 | Andy Schleck | Luxembourg | Team Saxo Bank | Specialized |
| 2011 | Cadel Evans | Australia | BMC Racing Team | BMC |
| 2012 | Bradley Wiggins | Great Britain | Team Sky | Pinarello |
| 2013 | Chris Froome | Great Britain | Team Sky | Pinarello |
| 2014 | Vincenzo Nibali | Italy | Astana | Specialized |
| 2015 | Chris Froome | Great Britain | Team Sky | Pinarello |
| 2016 | Chris Froome | Great Britain | Team Sky | Pinarello |
| 2017 | Chris Froome | Great Britain | Team Sky | Pinarello |
| 2018 | Geraint Thomas | Great Britain | Team Sky | Pinarello |
| 2019 | Egan Bernal | Colombia | Team Ineos | Pinarello |
| 2020 | Tadej Pogačar | Slovenia | UAE Team Emirates | Colnago |
| 2021 | Tadej Pogačar | Slovenia | UAE Team Emirates | Colnago |
| 2022 | Jonas Vingegaard | Denmark | Team Jumbo-Visma | Cervélo |
List of Tour de France winners and the bike brands