Cannondale is one of the leading bike manufacturers in the cycling world today. Their bikes are ridden at the highest levels of professional racing for many years and are loved by amateur cyclists.
It was founded in 1971 in Connecticut by Joe Montgomery and Murdock MacGregor. What many cyclists didn't know was that Cannondale started as a precast concrete manufacturer. Their journey into the bicycle industry started when they started making cloth bags and cargo trailers for bikes.
To their surprise, these products gained attention from the Bicycle Show in New York that they secured orders from more than 2,500 dealers across the United States in 20 months.
It wasn't until Todd Patterson, an exceptional designer came on board and started designing, jigging, and welding aluminum bike frames that Cannondale becomes a bike manufacturer. That's where Cannondale's famed aluminum frames started out.
Cannondale Road Bikes Line Up
There are four Cannondale road bikes models; SuperSix EVO (all-rounder), SystemSix (aero), Synapse (endurance), and CAAD (aluminum).
Carbon is used for mid to top-of-the-line frames. There is the Hi-MOD and non Hi-Mod versions. Hi-Mod stands for High Modulus carbon that is lighter, stiffer, and much more responsive.
Example : Cannondale SuperSix EVO Hi-Mod Dura Ace Di2
On the other hand, aluminum frames are found in low to mid-tiered frames. The lowest-tiered frames use the heavier SmartForm C2 Alloy, and mid-tiered frames use their premium SmartForm C1 Alloy.
| Model | Designed for | Price range |
| --- | --- | --- |
| SuperSix EVO | All-rounder race bike | $3,100 to $12,500 |
| SystemSix | Aero race bike | $5,250 to $12,500 |
| Synapse | Endurance bike | $1,300 to $7,875 |
| CAAD13 | Mid-range, aluminum bike | $1,800 to $3,200 |
| CAAD Optimo | Entry level, aluminum bike | $1,000 to $1,500 |
Cannondale SuperSix EVO
The SuperSix EVO is Cannondale's all-rounder race bike.
For years, it's well-known for being light, fast, and stiff on the climbs. At one point, many weight weenies were building sub-6kg bikes with the SuperSix EVO. The current design was launched in mid-2019. Cannondale is perhaps the last of the major bike manufacturers to adopt the dropped seat stays design.
Within the SuperSix EVO lineup, there are the flagship Hi-Mod models specced with electronic shifting and disc only. This is followed by the non Hi-Mod models with mechanical shifting in either both disc or rim brake versions (lowest tier).
All models specced with Shimano Ultegra R8000 and above come with the carbon, integrated handlebars called the HollowGram SAVE SystemBar. However, only electronic shifting models have internal cable routing. Lower tiered models have external cabling with a traditional two-piece alloy stem/handlebar set up and are also available in rim brake versions.
Cannondale SuperSix EVO retail prices in USD.
Cannondale SuperSix EVO Hi-Mod ($12,500) – SRAM Red eTap AXS / Shimano Dura Ace Di2
Cannondale SuperSix EVO Hi-Mod ($8,000) – Shimano Ultegra Di2
Cannondale SuperSix EVO ($3,100 to $6,000) – Shimano 105 / Ultegra / Ultegra Di2
More reading : Bikes at the 2022 Tour de France
Cannondale SystemSix
The SystemSix is the latest addition to Cannondale's road bike family. It's designed as an all-out aero bike with a 100% focus on speed.
The engineers designed the SystemSix based on a six-part system (hence the name); the integration of frame, fork, seat post, handlebar, stem, and wheels in a package to maximize aerodynamic advantages. All cables are routed internally via the two-piece, carbon Cannondale Knot SystemBar for all SystemSix models.
The flagship SystemSix Hi-Mod is built on Cannondale's premium, lightweight carbon technology and is specced with electronic shifting only. To achieve maximum aero benefits, the Cannondale HollowGram wheels are 64mm deep and tubeless-ready.
For those on a lower budget, there's the non Hi-Mod edition with a mechanical Shimano groupset. Another major difference is the 55mm deep, Vision SC55 wheel instead of HollowGram 64mm wheels.
Cannondale SystemSix retail prices in USD.
Cannondale SystemSix Hi-Mod ($12,500) – SRAM Red eTap AXS
Cannondale SystemSix Hi-Mod ($8,000) – Shimano Ultegra Di2
Cannondale SystemSix ($5,250) – Shimano Ultegra R8000
Cannondale Synapse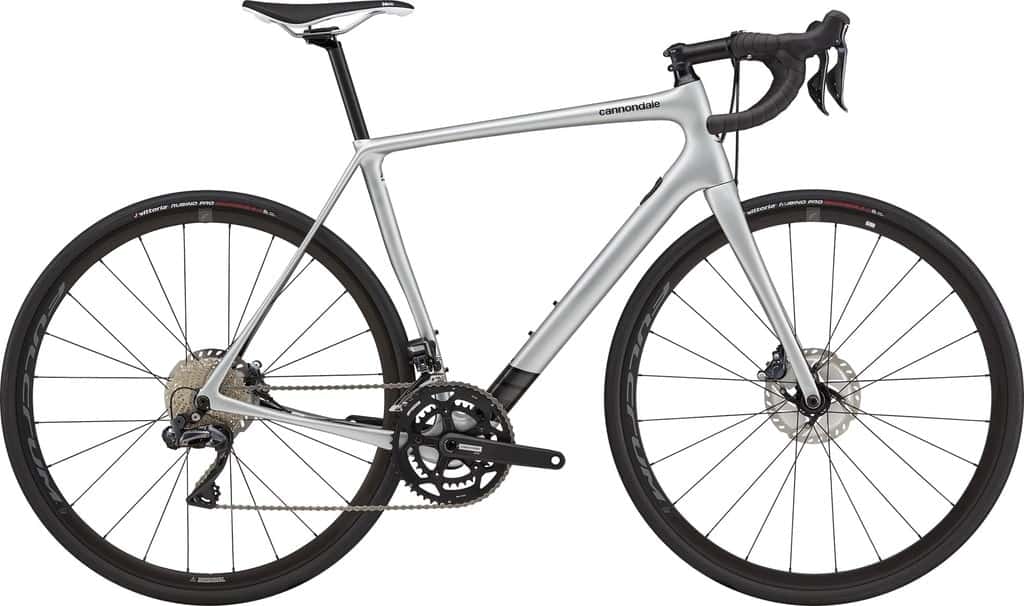 The Synapse is Cannondale's answer for those looking for an endurance bike geometry.
Compared to its elder sibling, the SuperSix EVO, the Synapse hasn't had any major design changes in recent years. It still features a traditional frame design with the non dropped seat stays with a maximum tire size of 32c, and disc only.
As it's an endurance bike, the Synapse doesn't come with top-of-the-line specs. There's only one Hi-Mod model with a Shimano GRX Di2 groupset. The rest are non Hi-Mod models with the groupsets ranging from Shimano Tiagra to 105 and Ultegra Di2.
Unknown to many, there's also an alloy version of Synapse. They sit at the bottom end and groupsets ranging from Shimano Sora to Tiagra and 105.
Cannondale Synapse retail prices in USD.
Cannondale Synapse Hi-Mod ($7,875) – GRX Di2
Cannondale Synapse Carbon ($2,400 / $3,000 / $4,650) – Shimano Tiagra / 105 / Ultegra Di2
Cannondale Synapse ($1,300 / $1,600 / $1,900) – Shimano Sora / Tiagra / 105
Cannondale CAAD13
The CAAD13 is Cannondale's flagship aluminum bike.
In the past 10 to 15 years, aluminum bikes are slowly fading off the radar with the wider availability of carbon bikes. However, this is not the case for the CAAD as it continues to be the go-to bike for many, especially criterium racers.
Now in its 13th iteration, it has the same dropped seat stay design as the SuperSix EVO although their frame geometry is different. The CAAD geometry is focused on smooth and responsive handling through corners and performs its best on flat criteriums.
The CAAD13 is available in mechanical groupsets with external cabling. There's a choice between rim or disc brakes.
Cannondale CAAD13 retail prices in USD.
Cannondale CAAD13 Disc ($2,300 to $3,200) – Shimano 105 / Ultegra
Cannondale CAAD13 Rim Brake ($1,800) – Shimano 105
Cannondale CAAD Optimo
The CAAD Optimo is Cannondale's entry-level road bike.
Built using Cannondale's lower-grade SmartForm C2 Alloy, the Optimo is available in rim brake versions only. This is due to the availability of disc brake groupsets on the lower tiers and also cost. The Optimo is specced with either Shimano Claris (8-speed), Sora (9-speed), Tiagra (10-speed), or an 11-speed Shimano 105 groupset.
Cannondale CAAD Optimo retail prices in USD.
Cannondale CAAD Optimo ($1,000 to $1,500)
Frequently Asked Questions
How long is Cannondale's warranty?
Cannondale road bike frames have a lifetime warranty for the original owner. Paint and decals, and Cannondale branded components are covered under warranty for the first year.
More about Cannondale's warranty policy.
Where are Cannondale bikes made in?
Cannondale bikes are made in Taiwan.