In this article, I'll guide you through a comparison between the Specialized Roubaix and Cannondale Synapse; both popular road bikes among cyclists.
I'll walk through the Specialized Roubaix and Cannondale Synapse models lineup, their specifications, and retail pricing (USD). I'll explain the carbon fiber technology used (Specialized FACT vs Cannondale BallisTec), and unique frameset features for each bike.
The goal is to help you get a better understanding before you make your final purchasing decision.
Specialized Roubaix
Cannondale Synapse
Type of bike
Endurance
Endurance
Frame material
FACT 11r carbon
FACT 10r carbon
BallisTec carbon
Frame sizes
44, 49, 52, 54, 56, 58, 61, 64
48, 51, 54, 56, 58, 61
Groupset
Shimano, SRAM (12-speed)
Shimano, SRAM (12-speed)
Brakes
Hydraulic disc
Hydraulic disc
Cabling
External
Internal
Price (USD)
$5,200 to $14,250
$4,500 to $9,050
Overview of Specialized Roubaix and Cannondale Synapse
Specialized Roubaix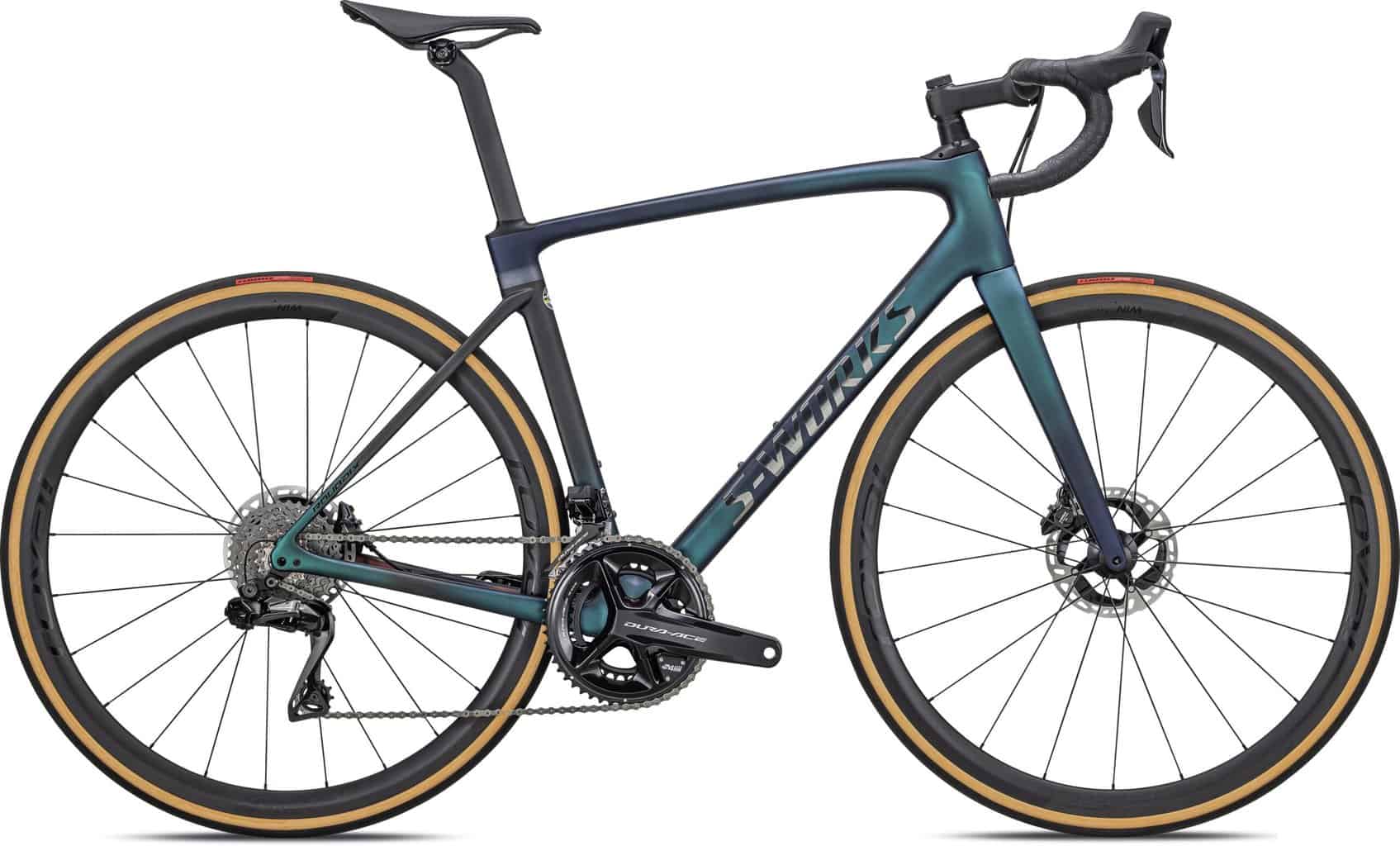 The Specialized Roubaix is an endurance bike that got its name from the hardest one-day bike race; the Paris-Roubaix. It has a slightly relaxed frame geometry and wider tire clearance compared to the Tarmac.
Specialized sponsored teams will ride this model for the race instead of their usual Tarmac for its Future Shock suspension system. This technology helps make riding more comfortable when the pros ride across rough cobblestones at 30mph.
There are six models in the Specialized Roubaix lineup based on its groupset setup. It's also available in S-Works frameset only.
| Model | Frame material | Groupset | Wheelset | Retail price (USD) |
| --- | --- | --- | --- | --- |
| S-Works Roubaix | FACT 11r carbon | Shimano Dura-Ace Di2 (R9200) | Roval Alpinist CLX | $14,250 |
| Specialized Roubaix Pro | FACT 10r carbon | SRAM Force eTap AXS | Roval Alpinist CL | $8,700 |
| Specialized Roubaix Expert | FACT 10r carbon | Shimano Ultegra Di2 (R8100) | Roval C38 | $8,000 |
| Specialized Roubaix Comp | FACT 10r carbon | SRAM Rival eTap AXS | DT Swiss R470 | $5,200 |
Specialized Roubaix models lineup
Specialized Roubaix vs others
Cannondale Synapse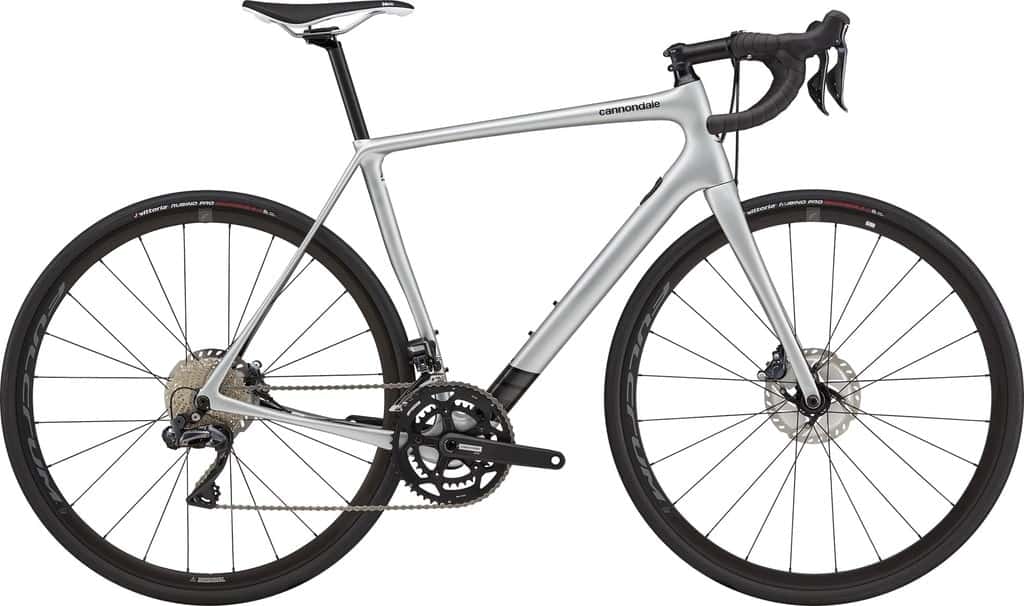 The Cannondale Synapse is for those looking for endurance bike geometry.
Compared to its elder sibling, the Cannondale SuperSix EVO, the Cannondale Synapse hasn't had any major design changes in recent years. It still features a traditional frame design with the non dropped seat stays with a maximum tire size of 32c, and disc only.
As an endurance bike, the Cannondale Synapse doesn't use top-of-the-line Hi-MOD framesets. In 2023, Cannondale streamlined the Synapse model from five to three, all with disc brakes and electronic shifting only.
| Model | Frame material | Groupset | Wheelset | Retail price (USD) |
| --- | --- | --- | --- | --- |
| Cannondale Synapse Carbon 1 RLE | BallisTec carbon | Shimano Dura-Ace Di2 (R9200) | HollowGram 45 SL KNØT | $9,050 |
| Cannondale Synapse Carbon Ltd RLE | BallisTec carbon | Shimano GRX Di2 (11s) | HollowGram 45 SL KNØT | $7,050 |
| Cannondale Synapse Carbon 2 LE | BallisTec carbon | Shimano 105 Di2 (R7100) | DT Swiss R470 | $4,500 |
Cannondale Synapse models lineup
Cannondale Synapse vs others
Specialized vs Cannondale carbon fiber
Specialized FACT Carbon
Specialized FACT (Functional Advanced Composite Technology) is an advanced carbon fiber technology used in high-performance Specialized bicycles. It offers a lightweight yet strong frame construction with precise carbon layup, resulting in optimal strength-to-weight ratio and improved ride quality.
FACT carbon frames are engineered to efficiently transfer power, absorb road vibrations, and provide a comfortable riding experience. With continuous innovation and refinement, FACT Carbon demonstrates Specialized's commitment to delivering top-notch performance and enhancing the overall cycling experience.
The carbon is available in three grades. The choice between FACT 12r, 11r, or 10r carbon depends on the bike model, your preferences, riding style, and budget.
Specialized FACT 12r Carbon is the highest-grade carbon used by Specialized. Bikes (S-Works models) with frames made from FACT 12r carbon are the lightest and stiffest in the Specialized line-up. These frames are manufactured using the most advanced techniques and materials.
Specialized FACT 11r Carbon used to be the highest-grade carbon until the S-Works Tarmac (SL5). Today, it's the highest-grade carbon for the S-Works Roubaix.
Specialized FACT 10r Carbon is two steps below 12r in the Specialized carbon hierarchy. While it doesn't provide quite the same level of weight savings and stiffness as 12r, 10r frames are still very light and stiff, providing a high level of performance. FACT 10r carbon is used in all non S-Works models and is ideal for riders who want a balance of performance and value.
Cannondale BallisTec Carbon
Cannondale BallisTec is a proprietary carbon fiber construction technique used to manufacture Cannondale bicycle frames.
The BallisTec carbon technology utilizes advanced engineering and construction methods to create frames that balance strength, stiffness, and weight. It involves the precise layering and placement of carbon fiber sheets, which are impregnated with epoxy resin and then molded under high pressure and temperature.
The BallisTec carbon is available in three grades.
BallisTec LAB71 is Cannondale's latest advancement in carbon construction. Also known as the Series 0 carbon, LAB71 is designed to be the lightest and most advanced, taking over from the Hi-MOD carbon. LAB71 frameset delivers exceptional performance, weight reduction, and overall ride quality.
BallisTec Hi-MOD stands for High-Modulus, which refers to using high-modulus carbon fibers in the frame. This results in a stiffer and lighter structure, providing enhanced power transfer and a more responsive ride feel. Hi-MOD carbon frames are designed for riders who prioritize performance, stiffness, and weight savings.
BallisTec is the standard carbon in Cannondale's frames, which offers a balance of weight, stiffness, and durability at more affordable prices.
Frameset technologies and innovations
Specialized Roubaix and Cannondale Synapse framesets incorporate advanced technologies to enhance their bikes' performance and ride characteristics.
Here's an overview of the technologies used in each bike model.
Specialized Roubaix
Name
Description
FACT carbon
Functional Advanced Composite Technology (FACT). A carbon fiber construction method that balances lightweight, stiffness, and compliance in Specialized bike frames. 

Available in two carbon grades; FACT 11r and 10r. A higher number indicates a higher grade of carbon.

S-Works models use the FACT 11r carbon and Specialized Pro and Expert models use the FACT 10r carbon.
Future Shock
A suspension system designed for the Roubaix road bike to improve rider comfort and control by absorbing road shocks and vibrations, resulting in a smoother and more efficient ride.

Located above the head tube, it offers up to 20mm of vertical travel to absorb road bumps and vibrations, enhancing rider comfort and reducing fatigue on rough terrains.
Rider-First Engineered™
Rider-First Engineered™ is a design philosophy used by Specialized that ensures every frame size delivers the same predictable and responsive ride characteristics. This concept was first introduced with the 2015 Tarmac, and the idea has been incorporated into all models since.

Instead of simply scaling frame sizes, Specialized takes into account that riders of different sizes have different weights, which are distributed differently. This means that each frame size experiences different forces. Therefore, each frame size is engineered independently with different carbon layups and tube dimensions, ensuring the optimal balance of rigidity, weight, and responsiveness for each size.

In short, no matter what the frame size is, the ride quality and performance remain consistently excellent.
Win Tunnel
Specialized utilizes advanced tools and technologies to pursue aerodynamic excellence, such as the Win Tunnel, FreeFoil Shape Library, Computational Fluid Dynamics (CFD), and Data Acquisition (DAQ) system.

The goal is to optimize aerodynamic performance by conducting wind tunnel tests, developing new airfoil shapes, simulating fluid flow, and collecting real-world data to improve rider position and enhance overall performance.
Specialized Roubaix's frameset features and technologies
Cannondale Synapse
Name
Description
BallisTec carbon construction
A proprietary manufacturing technology that uses meticulously woven carbon fiber material to create strong and lightweight bike frames.

The goal is to maximize the stiffness-to-weight ratio, providing riders with a responsive and efficient ride experience.

Available in three grades; BallisTec LAB71, BallisTec Hi-MOD, and BallisTec.
SAVE technology
SAVE stands for Synapse Active Vibration Elimination, and it is implemented in various bike components, including the frame, fork, seatpost, and handlebar.

The primary goal of SAVE technology is to absorb and dampen road vibrations, which can lead to rider fatigue and discomfort, especially during long rides on rough or uneven surfaces.
Cannondale Synapse's frameset features and technologies
Where to buy
Specialized shops
Specialized online shops. Argentina, Australia, Austria, Belgium, Brazil, Canada, Chile, China, Colombia, Czech Republic, Denmark, Finland, France, Germany, Italy, Japan, Luxembourg, Mexico, Netherlands, New Zealand, Poland, Portugal, Singapore, Slovakia, South Korea, Spain, Sweden, Switzerland, Taiwan, United Kingdom, United States
Specialized retailers. Use this tool to find your nearest Specialized retailers.
Cannondale retailers