In this comparison, I'll dissect two popular bike models; the Specialized Tarmac SL8 vs Pinarello Dogma F.
I'll compare their lineups, bike specifications, and suggested retail prices in USD, then discuss the carbon fiber technology (Specialized FACT and Pinarello TorayCa Carbon) and frameset technologies.
The goal is to give you a better understanding of Specialized Tarmac SL8 and Pinarello Dogma F to help in your decision-making.
Specialized Tarmac SL8
Pinarello Dogma F
Type of bike
All-rounder
All-rounder
Frame material
FACT 12r carbon
FACT 10r carbon
TorayCa T1100 carbon
Frame sizes
44, 49, 52, 54, 56, 58, 61
430, 465, 500, 515, 530, 545, 560, 575, 595
Groupset
Shimano, SRAM (12-speed)
Shimano, SRAM, Campagnolo (12-speed)
Brakes
Hydraulic disc
Hydraulic disc
Cabling
Internal
Internal
Price (USD)
TBD
Check with local retailers
Overview of Specialized Tarmac SL8 and Pinarello Dogma F
Specialized Tarmac SL8
The Specialized Tarmac SL8 is the latest, all-rounder race bike.
Now in its eighth iteration, hence SL8, the Specialized Tarmac improves on the features of the Tarmac SL7 that made it one of the best bikes in professional cycling and a leading bike brand among amateur cyclists.
According to Specialized, the Tarmac SL8 has a 33% improvement in stiffness-to-weight ratio compared to the Tarmac SL7. The most significant improvement is in aerodynamics; a larger head tube with a sharper nose cone. Specialized calls this the Speed Sniffer.
The S-Works version retains the same FACT 12r carbon, while the Specialized Pro and Expert versions use the FACT 10r carbon. The difference between the S-Works and Specialized versions lies in the carbon fiber grade, choice of groupset, wheels, and components. The S-Works versions come with the newly launched Roval Rapide Cockpit, a one-pice carbon handlebar.
A size 56 bike weighs 6.62 kg (14.6 lbs) with a Shimano Dura-Ace Di2 groupset, and 6.85 kg (15.1 lbs) with a SRAM Red AXS.
There are six models in the Specialized Tarmac SL8 lineup based on its groupset setup. All models are electronic shifting only. It's also available in frameset only for S-Works and for Specialized versions.
Model
Frame material
Groupset
Wheelset
Max. tire size
Retail price (USD)
S-Works Tarmac SL8
FACT 12r carbon
Shimano Dura-Ace Di2 (R9200)
Roval Rapid CLX II
(51mm front, 60mm rear)
32mm
$14,000
S-Works Tarmac SL8
FACT 12r carbon
SRAM Red eTap AXS
Roval Rapid CLX II
(51mm front, 51mm rear)
32mm
$14,000
Specialized Tarmac SL8 Pro
FACT 10r carbon
Shimano Ultegra Di2 (R8100)
Roval Rapid CL II
(51mm front, 60mm rear)
32mm
$8,500
Specialized Tarmac SL8 Pro
FACT 10r carbon
SRAM Force eTap AXS
Roval Rapid CL II
(51mm front, 60mm rear)
32mm
$8,500
Specialized Tarmac SL8 Expert
FACT 10r carbon
SRAM Rival eTap AXS
Roval C38 (38mm)
32mm
$6,500
Specialized Tarmac SL8 models lineup
More reading : Specialized Tarmac SL8 vs SL7 - What's Changed?
Pinarello Dogma F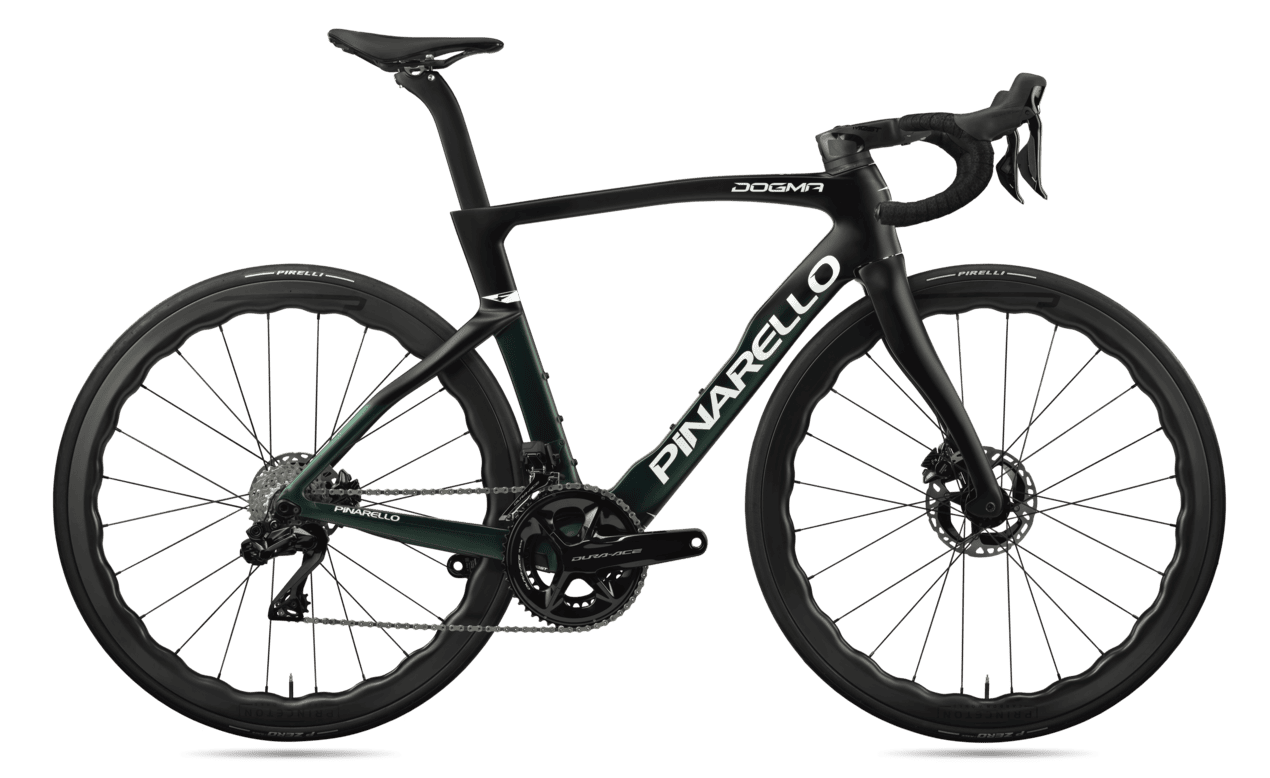 The Pinarello Dogma F was released just days before the 2021 Tour de France. It's Pinarello's fastest and lightest performance road bike to date. It's the bike that Ineos-Grenadiers will race on in July.
The main improvement in the Pinarello Dogma F is weight savings. By reducing weight in the cockpit, fork, headset, seat tube, and seat clamp, the Dogma F is 265g lighter than the Dogma F12 in the same configuration for a size 53. Pinarello also redesigned the (although subtle) fork, downtube, and seat stays. Combining these allows air to flow with less interruption, improving aerodynamics by 4.8% over the Dogma F12.
The Pinarello Dogma F is available in 11 frame sizes with 16 handlebar reach/widths and two seat post setback choices. This gives the cyclist 352 sizing options to get the ideal fit. As the top-of-the-line bike, the Pinarello Dogma F is only available with the best electronic shifting groupsets from Shimano, SRAM, or Campagnolo.
| Model | Frame material | Groupset | Wheelset |
| --- | --- | --- | --- |
| Pinarello Dogma F | Toray T1100 carbon | Shimano Dura-Ace Di2 (R9200) | Shimano Dura-Ace C50 |
| Pinarello Dogma F | Toray T1100 carbon | SRAM Red eTap AXS | DT Swiss ARC 1400 |
| Pinarello Dogma F | Toray T1100 carbon | Campagnolo Super Record EPS | Campagnolo Bora WTO |
Pinarello Dogma F models lineup
Pinarello Dogma F vs others
Specialized vs Pinarello carbon fiber
Specialized FACT Carbon
Specialized FACT (Functional Advanced Composite Technology) is an advanced carbon fiber technology used in high-performance Specialized bicycles. It offers a lightweight yet strong frame construction with precise carbon layup, resulting in optimal strength-to-weight ratio and improved ride quality.
FACT carbon frames are engineered to efficiently transfer power, absorb road vibrations, and provide a comfortable riding experience. With continuous innovation and refinement, FACT Carbon demonstrates Specialized's commitment to delivering top-notch performance and enhancing the overall cycling experience.
The carbon is available in three grades. The choice between FACT 12r, 11r, or 10r carbon depends on the bike model, your preferences, riding style, and budget.
Specialized FACT 12r Carbon is the highest-grade carbon used by Specialized. Bikes (S-Works models) with frames made from FACT 12r carbon are the lightest and stiffest in the Specialized line-up. These frames are manufactured using the most advanced techniques and materials.
Specialized FACT 11r Carbon used to be the highest-grade carbon until the S-Works Tarmac (SL5). Today, it's the highest-grade carbon for the S-Works Roubaix.
Specialized FACT 10r Carbon is two steps below 12r in the Specialized carbon hierarchy. While it doesn't provide quite the same level of weight savings and stiffness as 12r, 10r frames are still very light and stiff, providing a high level of performance. FACT 10r carbon is used in all non S-Works models and is ideal for riders who want a balance of performance and value.
Pinarello TorayCa
Pinarello uses Torayca carbon in their bikes due to the material's performance characteristics and the consistency of its quality. Toray's manufacturing processes ensure a high level of control over the properties of carbon fiber, resulting in a reliable and predictable material.
Different grades of Torayca carbon are used in Pinarello bikes, which are distinguished by their moduli. The T in T1100, T900, T700, and T600 refers to Torayca, and the number denotes the grade of the carbon fiber.
A higher number equates to a higher grade of carbon, which in turn offers more stiffness and less weight, but also typically costs more to produce.
T1100 carbon is the top Pinarello's carbon offering. This high-end carbon fiber blend is created for the ultimate stiffness-to-weight ratio. Utilizing the highest quality carbon fiber available, Pinarello designs frames with T1100 Carbon for their flagship, Pinarello Dogma F series.
T900 carbon is another high-quality carbon fiber offering from Pinarello, albeit slightly less stiff and lightweight than T1100. It's used in the Pinarello F series road bikes, such as the F9 and F7.
T700 carbon is a step down from the T900 but still offers a solid balance between weight, stiffness, and cost. It's found in mid-range models, such as the Pinarello F5.
T600 carbon is the entry level of Pinarello's carbon range, is heavier, less stiff, and more comfortable. It's used in the Endurance road bike series, the Pinarello X.
Frameset technologies and innovations
Specialized Tarmac SL8 and Pinarello Dogma F framesets incorporate advanced technologies to enhance their bikes' performance and ride characteristics.
Here's an overview of the technologies used in each bike model.
Specialized Tarmac SL8
Name
Description
FACT carbon
Functional Advanced Composite Technology (FACT). A carbon fiber construction method that balances lightweight, stiffness, and compliance in Specialized bike frames.

Available in two carbon grades; FACT 12r and 10r. A higher number indicates a higher grade of carbon.

S-Works models use the FACT 12r carbon and Specialized Pro and Expert models use the FACT 10r carbon.
Rider-First Engineered™
Rider-First Engineered™ is a design philosophy used by Specialized that ensures every frame size delivers the same predictable and responsive ride characteristics. This concept was first introduced with the 2015 Tarmac, and the idea has been incorporated into all models since.

Instead of simply scaling frame sizes, Specialized takes into account that riders of different sizes have different weights, which are distributed differently. This means that each frame size experiences different forces. Therefore, each frame size is engineered independently with different carbon layups and tube dimensions, ensuring the optimal balance of rigidity, weight, and responsiveness for each size.

In short, no matter what the frame size is, the ride quality and performance remain consistently excellent.
Win Tunnel
Specialized utilizes advanced tools and technologies to pursue aerodynamic excellence, such as the Win Tunnel, FreeFoil Shape Library, Computational Fluid Dynamics (CFD), and Data Acquisition (DAQ) system.

The goal is to optimize aerodynamic performance by conducting wind tunnel tests, developing new airfoil shapes, simulating fluid flow, and collecting real-world data to improve rider position and enhance overall performance.
Specialized Tarmac SL7's frameset features and technologies
Pinarello Dogma F
Name
Description
T1100 1K carbon fiber
The T1100 refers to a high-grade carbon fiber known for its exceptional tensile strength and modulus. This results in a frame that is incredibly stiff and durable.

The 1K signifies that each tow of carbon fiber contains 1,000 filaments. This fine weave creates a lightweight, robust frame that also enhances the bike's aesthetic appeal.
Asymmetric frame
The Pinarello Dogma F series has an asymmetric frame that compensates for the unbalanced forces generated by the drivetrain. The right side of the frame is stiffer and stronger than the left side, to improve power transfer and efficiency. The asymmetric frame also enhances the handling and stability of the bike
Nanoalloy Technology
Implemented in the carbon fiber resin, this technology uses microscopic nanoparticles to form a composite material highly resistant to impacts and fatigue. This means the bike frame maintains its structural integrity under stress and over time, reinforcing the quality of the Pinarello Dogma F.
TiCR
Total Internal Cable Routing (TiCR) is the state-of-the-art internal cable routing system that sets the standard across the whole bike industry. This system is versatile, accommodating both wireless and electro-mechanical group sets.

TiCR completely conceals the cables within the bar/stem or integrated handlebar. This not only enhances the bike's aesthetic appeal but also significantly improves aerodynamic performance and protects the cables from external elements.
FlatBack Profile
The FlatBack Profile is a significant aerodynamic feature in the Pinarello Dogma F. Essentially, it's a truncated aerofoil design that provides an aerodynamic advantage while adhering to the 3:1 rule set by the Union Cycliste Internationale (UCI).

By using this design, the bike achieves excellent aerodynamic performance with minimal lateral wind resistance. This means less energy is expended fighting wind resistance, leading to greater speed and efficiency.
Onda Fork
The Onda Fork is a distinctive Pinarello technology that has been around since 2000. This fork's unique design offers precise steering abilities, stability, and a notable reduction of both longitudinal and lateral shocks. It does this by effectively absorbing road vibrations and dissipating them before they can reach the rider, resulting in a smoother, more comfortable ride.
Pinarello Dogma F's frameset features and technologies
Where to buy
Specialized shops
Specialized online shops. Argentina, Australia, Austria, Belgium, Brazil, Canada, Chile, China, Colombia, Czech Republic, Denmark, Finland, France, Germany, Italy, Japan, Luxembourg, Mexico, Netherlands, New Zealand, Poland, Portugal, Singapore, Slovakia, South Korea, Spain, Sweden, Switzerland, Taiwan, United Kingdom, United States
Specialized retailers. Use this tool to find your nearest Specialized retailers.
Pinarello retailers