Many cycling apparel companies have taken on the challenge of being that standout brand, making for a crowded market filled with countless options. Some of them are sponsors of professional teams, and you can see them during the Tour de France.
Designing road cycling clothing is an art and a science. You need to produce the most breathable, highest-quality jerseys to perform well in all riding conditions while making them attractive to the cyclist.
Because there are so many cycling clothing brands today, I wanted to break down some of my favorite and best cycling clothing brands (alphabetically), delving into their fascinating origins and showcasing their most outstanding products.
Assos of Switzerland
Assos, a 44-year-old Swiss brand, has been a pioneer in cycling apparel since its inception. As the first company to develop, market, and sell Lycra shorts in the mid-1970s, Assos paved the way for the moisture-wicking fabrics that have become a staple in modern cycling gear.
Renowned for its high-quality products, Assos has been a trusted choice for amateurs and professional cyclists. Assos' innovative approach has led to over 250 gold medals won by riders wearing Assos products in prestigious competitions, such as the Olympic Games and World Championships.
Assos takes pride in creating equipment rather than just clothing, ensuring optimal riding conditions for cyclists. Designed with the Swiss Alps in mind, the brand's bibs, jerseys, and other essentials can withstand extreme cold and hot weather conditions.
Assos EQUIPE RS S9 bib shorts
Available at :
The Assos EQUIPE RS S9 Bib Shorts are a high-performance option for competitive cyclists. These shorts result from six years of development and testing by WorldTour riders and feature the latest generation of Assos inserts.
Their design combines compression, comfort, and tensile pre-load to keep everything in place. The result is a pair of bib shorts that are advanced, comfortable, and secure, making them a favorite among cyclists.
Assos EQUIPE RS rain jacket
Available at :
The Assos EQUIPE RS Rain Jacket is an ultralight and highly packable option for cyclists seeking protection from the elements. It features waterproof construction, Schloss Tex material, and taped wrists and neck to minimize friction.
With a silicon elastic waistband and slot pockets for easy access, this rain jacket is race-focused and engineered to provide pro-level performance.
Castelli
Castelli, an iconic Italian cycling apparel brand, has been a trailblazer since its inception in 1876. Originating as a tailor shop in Milan, Castelli has a rich history of several firsts, such as creating the first thermal winter clothing and developing the pioneering aero skinsuits.
Castelli is renowned for its innovative designs and superior craftsmanship, boasting a century-long legacy of dressing professional cyclists. Castelli is perhaps best known for the Gabba jacket, a staple in professional road cycling for the past decade, and the Free Aero Race bib shorts, which feature Castelli's Progetto X² Air Seamless chamois for added comfort during long rides.
Castelli's commitment to quality and performance is undeniable as the official kit sponsor for the Giro d'Italia, Soudal-QuickStep, and previously Ineos-Grenadiers.
Castelli Gabba Ros 2 jacket
Available at :
The Castelli Gabba RoS 2 jacket is a versatile option for wet-weather cycling with a balance of waterproofing and breathability. It features pockets designed for a pump and that drain, but its tight fit may not work for everyone.
Castelli Free Aero Race bib shorts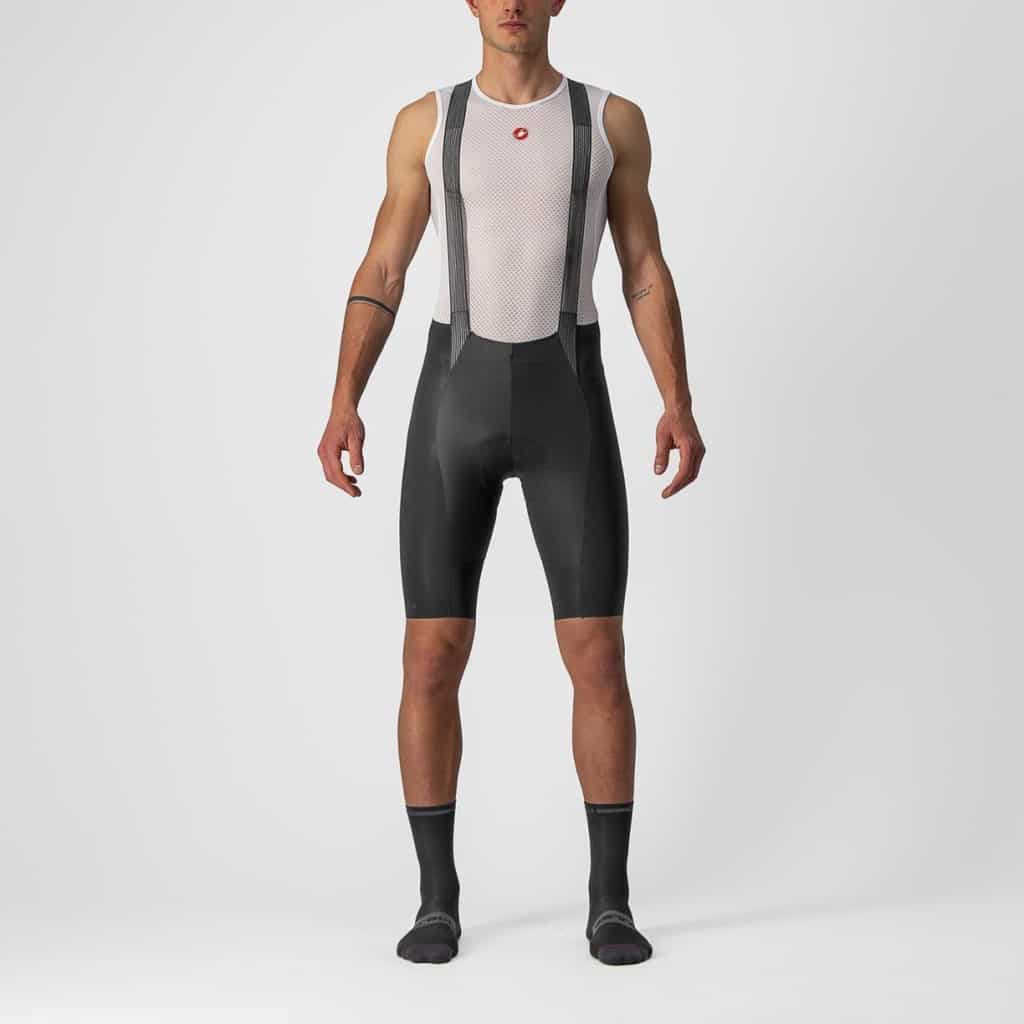 Available at :
The Castelli Free Aero RC bib shorts are very popular for their exceptional features. The high-compression fabric eliminates the need for leg grippers, while the Progetto X2 Air chamois offers unparalleled comfort, especially for long rides.
More reading : 
Guide to Castelli Jerseys Lineup
Guide to Castelli Bib Shorts Lineup
dhb
Founded : 2004, United Kingdom
Hero product : Aeron Lab Raceline jersey, Aeron Temp FLT jacket
dhb, the in-house brand of the popular online cycling shop Wiggle.com, has become a favorite among cyclists seeking quality, affordable road cycling apparel. With its focus on providing good-enough quality and cost-effective options, dhb appeals to budget-conscious cyclists without sacrificing performance.
Many of the brand's popular items, such as the dhb Flashlight Waterproof Jacket, are priced significantly lower than their counterparts from leading brands, starting at around $50. This affordability, combined with functional, no-frills designs, makes dhb an attractive option for cyclists who want reliable gear without breaking the bank.
The essence of dhb is about enjoying the cycling experience, regardless of weather conditions. By incorporating high-quality components, a comfortable fit, and innovative designs, dhb ensures that cyclists can relish their rides without worrying about their equipment.
dhb Aeron Lab Raceline jersey
Available at :
The dhb Aeron Lab Raceline Short Sleeve Jersey is a super-fast and aerodynamic option for elite athletes and champions. It features a honeycomb-textured, aerodynamic weave on the shoulders and sleeves and an advanced lightweight, fast-wicking main body fabric.
With an uncompromising second-skin fit, raw-cut sleeves and hem, silicone grippers, and three rear pockets with bonded openings, this jersey is designed for aggressive racing positions. Developed with Canyon dhb SunGod and wind tunnel tested, this is the pinnacle of the Aeron Lab collection.
dhb Aeron FLT jacket
Available at :
The dhb Flashlight Waterproof Jacket is a packable and lightweight option for cyclists seeking protection in low-light and changeable conditions. Its dropped hem and shaped cuffs offer extra protection, and the 2.5L waterproof fabric with taped seams and high waterproof and breathability ratings make it highly functional.
The two-way YKK® AquaGuard Vislon® zipper, Flashlight Technology on arms and logo, and 100% nylon material add to its functionality and durability. This jacket is a go-to choice for cyclists seeking protection and visibility in variable weather conditions.
Endura
Founded in Scotland in 1993 by Jim MacFarlane, Endura has become a prominent name in cycling clothing. Originally born out of MacFarlane's dissatisfaction with the available options, Endura initially focused on mountain bike clothing. Endura's Scottish roots gave it the advantage of designing and testing apparel in various weather conditions, making it versatile and suited for all environments.
Endura's expertise spans both road and off-road disciplines, and until recently, it was the clothing sponsor for team Movistar, developing and racing in the Pro SL and D2Z Aero kits. In 2019, Enduraleft the WorldTour, due to UCI restrictions, now aims to create even more cutting-edge clothing.
Endura products fall in the mid-range price spectrum, with the popular Pro SL lineup offering comfort, performance, and affordability. Endura's innovative approach and commitment to quality and high-spec protection have led to partnerships with mountain bike teams like Continental Atherton and other major mountain bike pros.
Endura FS260 bib shorts
Available at :
The Endura FS260 bib shorts deliver a best-in-class package with improved detailing, new colorways, performance, comfort, and sharp styling. The exclusive 600 Series Pad is engineered using a computer-cut Continuously Variable Profile process, offering high stretch and integrated gel inserts for added comfort.
These bib shorts also feature premium Italian Lycra fabric, pre-curved panel construction, and wicking upper mesh with optimal breathability.
Endura FS260 Adrenaline Race Cape
Available at :
This waterproof shell jacket is a best-selling and race-tested road essential, whether you are riding competitively or for fun. It is so light and compact that it can be stowed in your back pocket, ready to deploy.
The Endura FS260 Adrenaline Race Cape is made of ExoShell20ST™ fabric that is lightweight, compact, waterproof, and breathable, offering breathability of 20,000gm/m2/24hrs. The built-in stretch allows an athletic cut without flapping, and the translucence on the white colorway is perfect for race number visibility.
MAAP
Founded : 2014, Melbourne, Australia
Hero product : Evolve 3D Pro Air Jersey, Team Bib Evo
Where to buy : MAAP
MAAP, an Australian brand founded in 2014, has quickly become a top cycling clothing brand known for its unique blend of fashion and performance. Established by Oliver Cousins and Jarrad Smith, both experienced designers with graphic, fashion, and technical apparel backgrounds, MAAP's distinctive style and eye-catching designs make a statement on and off the bike.
MAAP is committed to quality and innovation, using fabrics from Swiss and Italian mills and manufacturing in Milan. The brand's flagship product, the MAAP Encore Pro Base Jersey, is celebrated for its soft fabric, lightweight design, and exceptional moisture-wicking properties. Collaborating with sports scientist Ken Ballhause, MAAP has even designed its chamois, ensuring optimal comfort and performance for riders.
MAAP is dedicated to using recycled materials and environmentally-friendly dyes in its products, aiming to create 100% of its on-bike apparel from recycled yarns. Additionally, MAAP ensures that all products are packed in compostable bags.
MAAP Evolve 3D Pro Air Jersey
Available at :
The MAAP Evolve 3D Pro Air Jersey is a sustainable, high-performance cycling jersey made with recycled yarns and OEKO-TEX® certified hem. Its contoured paneling, longer sleeve length, and low profile collar provide a comfortable and performance-driven fit.
Using ultra-lightweight mesh side panels, micro-perforated chest, and back panels, and air-mesh sleeves ensures maximum airflow, keeping you cool and dry. With moisture-wicking technology and laser-cut perforated pockets, this jersey is perfect for any rider seeking the ultimate experience.
MAAP Team Bib Evo
Available at :
Experience ultimate comfort and performance with the MAAP Team Bib Evo, a highly-evolved version of the most popular bib. The 3D Thermo Moulded multi-layer chamois and anti-pilling, high abrasion-resistant material provide long-lasting comfort, while laser-cut perforations ensure maximum breathability.
With a seamless wide elasticized bib brace strap, male-specific cut, tailored hip, and longer leg length, these bibs provide ultimate comfort and fit for long training or race days. Cyclists love its comfort and breathability, making it an ideal choice for intense rides.
Pearl Izumi
Pearl Izumi, founded over 60 years ago by Kinji Shimizu in Tokyo, Japan, is synonymous with innovation and sustainability in cycling apparel.
Initially inspired by an Italian-made jersey, Shimizu created high-quality cycling clothing using only the finest materials. This led to a series of world-first innovations in the industry, such as fully welded cycling shorts and using the BOA closure system on cycling shoes.
Today, Pearl Izumi offers a diverse range of products for road cycling and mountain biking enthusiasts, focusing on sustainability. Pearl Izumi aims to make 98% of its products from sustainable materials by 2024, showing its commitment to reducing its environmental impact.
Pearl Izumi PRO Barrier Jacket
Available at :
The Pearl Izumi Men's PRO Barrier Jacket offers ultimate protection against rain without compromising on breathability. The jacket features PI Dry® technology that sheds all but the worst rain, allowing for extra breathability. It is lightweight, made with recycled content, and features a high-stretch knit face fabric for a close-to-body fit.
It is highly packable, easily fitting into a jersey pocket, and features a silicone rear gripper to hold the jacket in place while in the riding position.
Pearl Izumi Attack Air Jersey
Available at :
The Pearl Izumi Attack Air Jersey is an excellent choice for performance-minded cyclists, delivering a sleek fit with high-quality materials. Made from over 80% recycled materials, this jersey features a longer sleeve and a minimal collar for a modern look and extra airflow.
The In-R-Cool® Infrared technology reduces the sun's intensity, keeping you cool even on hot days. With three rear pockets and a side zip pocket, it's perfect for storing your essentials.
The Pedla
Founded : 2014, Melbourne, Australia
Hero product : Pursuit Jersey, SuperFIT Bib Short
Where to buy : The Pedla
Pedla, a niche Australian brand, is known for its beautiful, modern cycling gear designs, marked by its distinctive seven-dot logo. Pedla's artistic touch can be attributed to co-founder Marcin Wojcik, an accomplished artist whose work has been showcased in numerous Australian galleries.
The LunaLUXE jersey, Pedla's most popular offering, is designed as a versatile all-season garment. Pedla recommends pairing the jersey with one of its stylish gilets to ensure optimum comfort during late fall and early spring rides. Pedla sources its materials from suppliers in Italy and Switzerland, ensuring high-quality fabrics for all its products.
Pedla's commitment to functionality, performance, and design is evident in every garment, with fabrics developed in partnership with Italian company Mitispa and Swiss company Schoeller Textiles.
Pedla Pursuit Jersey
Available at :
The Pedla Pursuit Short Sleeve Jersey is for cyclists looking for a race-ready fit and high-quality Italian fabrics. Its AeroPRISMA sleeves have heat-welded hems, and the jersey features sheer mesh panels for optimal ventilation and breathability.
Reflective accents ensure visibility in low-light conditions, while the three rear pockets provide ample storage space for nutrition and personal belongings.
Pedla SuperFIT Bib Short
Available at :
These Pedla SuperFIT bib shorts are designed to maximize both comfort and performance. They feature premium fabrics, lightweight bonded finishes, and a sleek brace system for muscle stability and recovery. The ultra-high-density chamois and integrated silicone leg gripper ensure unbeatable comfort and support during even the longest rides.
Cyclists love the anatomical compressive fit, premium lightweight finishes, and durability that helps them go the distance.
Rapha
Founded : 2004, England
Flagship clothing : Pro Team jersey, Pro Team Gore-Tex rain jacket
Where to buy : Rapha
Rapha, a British cycling apparel brand founded by Simon Mottram and Luke Scheybeler, has become a recognizable name in the cycling world since its inception in 2004. The brand's iconic stripe on the right sleeve of its jerseys makes Rapha easily distinguishable in a group ride.
Rapha gained international attention in 2013 when it sponsored Team Sky, a relationship that led to several Tour de France general classification victories. Following the end of the Team Sky partnership, Rapha shifted focus and made a statement by sponsoring the UCI Women's WorldTour team Canyon-SRAM, showcasing their dedication to elevating women's racing.
For those passionate about the brand, the Rapha Cycling Club offers exclusive apparel and the chance to connect with fellow cyclists worldwide. Rapha's influence extends beyond just apparel, encompassing publications, events, and a community built around the cycling lifestyle.
Rapha Pro Team jersey
Available at :
The Rapha Pro Team Jersey is a high-performance option for those seeking their fastest rides and races. Its high-stretch main fabric keeps you cool and dry, while ultra-light fabric aids heat convection on the waist and sleeves.
The close, next-to-skin fit improves aerodynamics and moisture management, and the seamless pocket construction reduces bulk and saves weight.
Rapha Pro Team Gore-Tex rain jacket
Available at :
The Rapha Pro Team Rain Jacket is a lightweight waterproof option for cyclists seeking complete protection in changeable weather. Constructed with GORE-TEX Active™, this fabric is the lightest and most breathable in the GORE-TEX family, with added durability compared to Shakedry™ jackets.
At just 84g, this jacket is easy to pack and stow, making it a favorite among cyclists seeking a high-performance option.
More reading : Rapha vs Castelli vs Assos Cycling Clothing Comparison
Sportful
Sportful, an Italian brand established in 1972, has a rich history of producing high-quality performance cycling and cross-country ski clothing for men and women. By 1985, Sportful expanded into the cycling clothing market.
Operating under the same parent company as Castelli, Sportful shares the same commitment to quality and innovation. Best known for its cycling apparel tailored for hot conditions, the Sportful Bodyfit Pro sleeveless base layer has become a favorite among cyclists. The Diablo mesh fabric excels at regulating body temperature while offering UV protection.
Sportful's designs, which encompass minimal and colorful aesthetics across jerseys, bib shorts, and jackets, set it apart from competitors.
Sportful Flanders Pro jacket
Available at :
The Sportful Flanders Pro jacket is a top-performing option for cyclists racing in extreme weather conditions. It features Polartec® Neoshell® fabric and minimal taped seams for maximum protection, breathability, and surprising stretch.
Its strategically placed seams optimize fit and feel on the bike while reducing exposure to elements, and the waterproof YKK® Vislon® zipper and reflective transfers add to its functionality.
Sportful Bodyfit Pro baselayer
Available at :
The Sportful Bodyfit Pro Baselayer Short Sleeves is a high-performance base layer option for cyclists seeking warmth and thermoregulation. Its ribbed polyester fabric features a unique construction with lighter-weight and three-dimensional rows that offer greater thermal insulation.
The ThermoDrytex fabric ensures improved airflow, while minimal strategically placed seams prevent chafing.
Velocio
Founded : 2014, New Hampshire, USA
Hero product : Alpha Merino Air Jacket, Signature Jersey
Where to buy : Velocio
Born in New England and co-founded by former Australian pro cyclist Kristy Scrymgeour, Velocio is a trailblazing brand in the cycling apparel industry. Initially focusing on providing high-quality cycling kits exclusively for women, the brand has since expanded its offerings to cater to all genders.
Velocio prides itself on championing diversity and inclusivity, evident in its extensive range of sizes and the representation of various body types and ethnicities in its marketing efforts.
Sustainability is woven into the fabric of Velocio's operations, from incorporating recycled materials into their products to prioritizing environmentally friendly practices. In 2018, Velocio transitioned its Signature Bib Short to 100% recycled Lycra and now includes recycled fabrics in over half of its collection.
Velocio Alpha Merino Air Jacket
Available at :
The Velocio Alpha Merino Air jacket combines Polartec's Alpha insulation with merino wool and Pertex Quantum Air for warmth, breathability, and performance. It features a recycled Italian milled fleece back panel for breathability and mobility.
Its 3D patterning and on-bike fit are streamlined, making it versatile for various temperatures and conditions. Its exceptional warmth-to-weight ratio, windproof and water-resistant shell, and large pockets make it a highly technical jacket and an excellent choice for cyclists seeking warmth without bulk.
Velocio Signature Jersey
Available at :
The Velocio Signature Jersey is a versatile and refined option, perfect for long days in the saddle. It features a lightweight and supportive recycled fabric, provides excellent wicking and breathability, and UPF30 sun protection.
Its anti-sag pocket design and security flap keep your belongings secure, while the reflective logos and trim details increase visibility. The size-specific patterning ensures an excellent fit for all body types, and the lightweight YKK CamLock zipper with double zipper garage adds convenience.