Being a leading brand in cycling clothing for decades, Castelli made its come back into the highest level of professional cycling with its partnership with Team Sky in 2017 and more recently Quick-Step Alpha Vinyl in 2022. Since then, many cyclists are being exposed to Castelli's extensive range of bib shorts.
For many, they all look very similar from the outside. But if you look closer, there are a lot of thoughts and technologies that go into each bib short.
So what are the differences between the Castelli bib shorts, and which model could suit your needs?
Before we go deeper, here are a few features and technologies about Castelli's bibs that you should know.
Rosso Corsa. It means racing red. Rosso Corsa or RC is an abbreviation Castelli use for their best apparel. If a piece of bib short has RC on it, you can be sure that it features all the best fabric technologies Castelli has to date.
Progetto X2 refers to Castelli's top-of-the-line chamois that are made from softer, dual-layer fabrics for added support.
Kiss Air 2 is the mid-tiered chamois used in all bib shorts from entry to mid-level.
Giro4 grippers. Castelli's fourth iteration of leg grippers features vertical silicon strips colored in red on the inner. Usually used in mid to premium-level bib shorts.
Giro3 grippers. An older leg gripper design is used in entry to mid-level bib shorts.
Castelli's bib shorts start from $110 to $300 for the premium versions.
Let's take a look at each bib shorts model.
Castelli Premio Black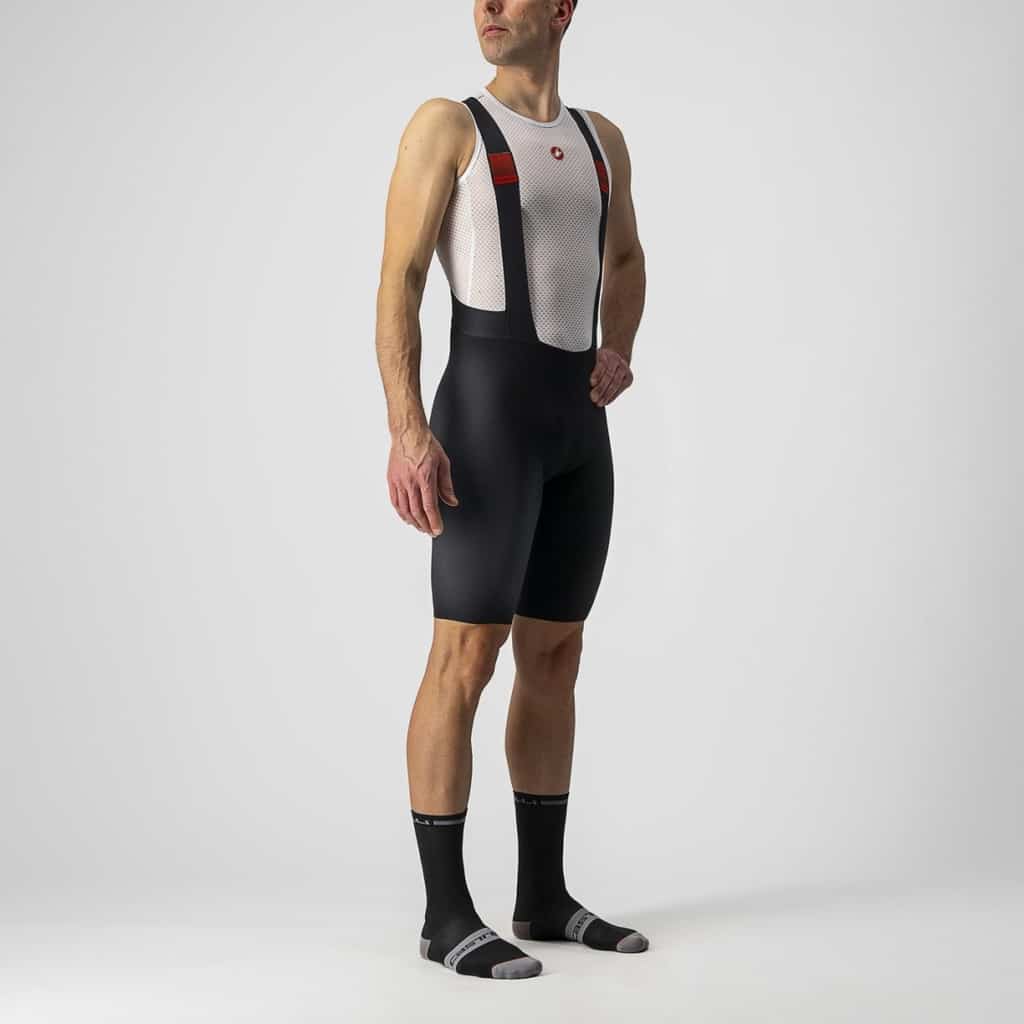 Now in its third iteration, the Castelli Premio Black is Castelli's best bib shorts to date.
It's designed to provide maximum comfort and muscle support for long-distance rides. It has only three panels and is made from very soft and stretchy woven fabrics. Unlike most other models, the leg grippers are cut raw and flat.
Colors : Black
Weight : 143g (Small)
Retail price : $300
Castelli Superleggera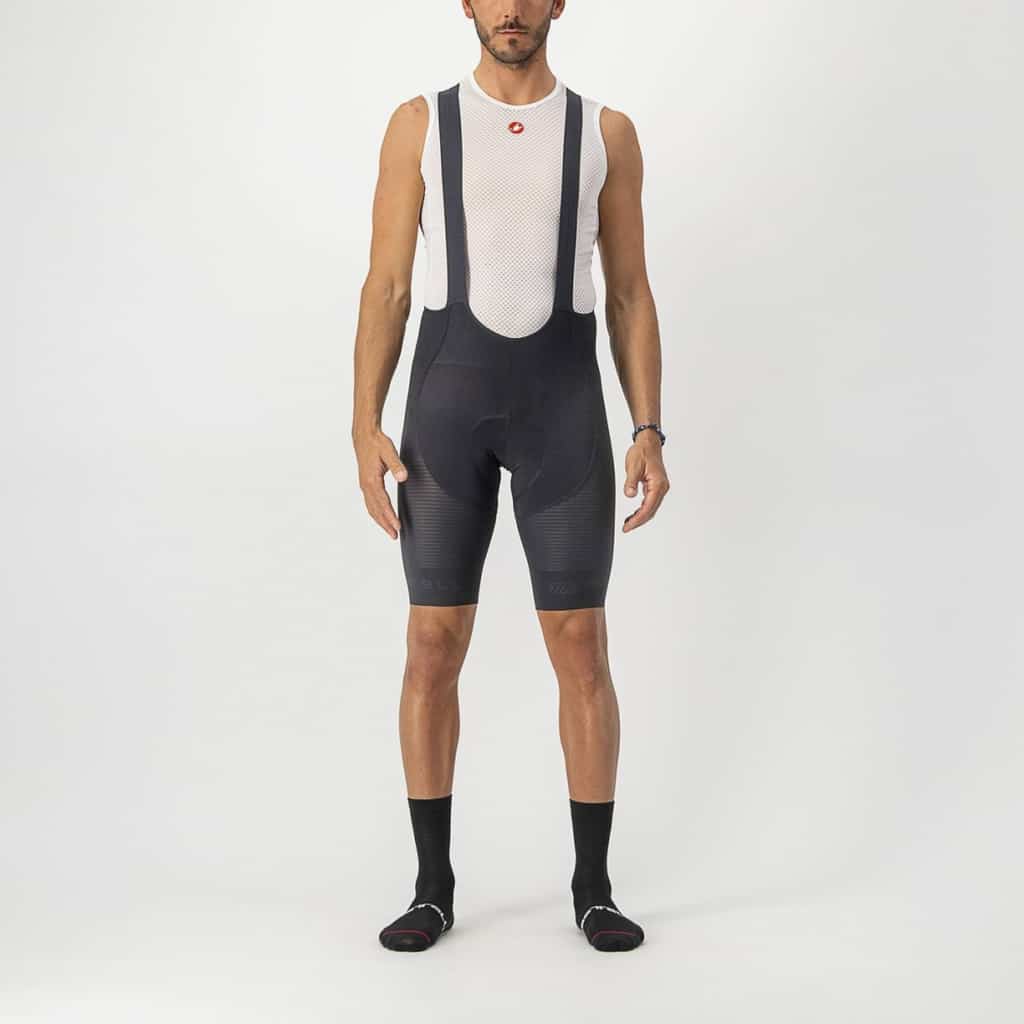 Designed for hot weather, the Castelli Superleggera bib shorts are lightweight, weighing only 141g for the Large size.
To bring down the weight, Castelli uses a gradient fabric design where the material gradually gets thinner further down the leg. With such thin fabrics. they're prone to tears during crashes.
Colors : Black, Saville blue
Weight : 141g (Large)
RRP : $240
Castelli Free Aero RC Pro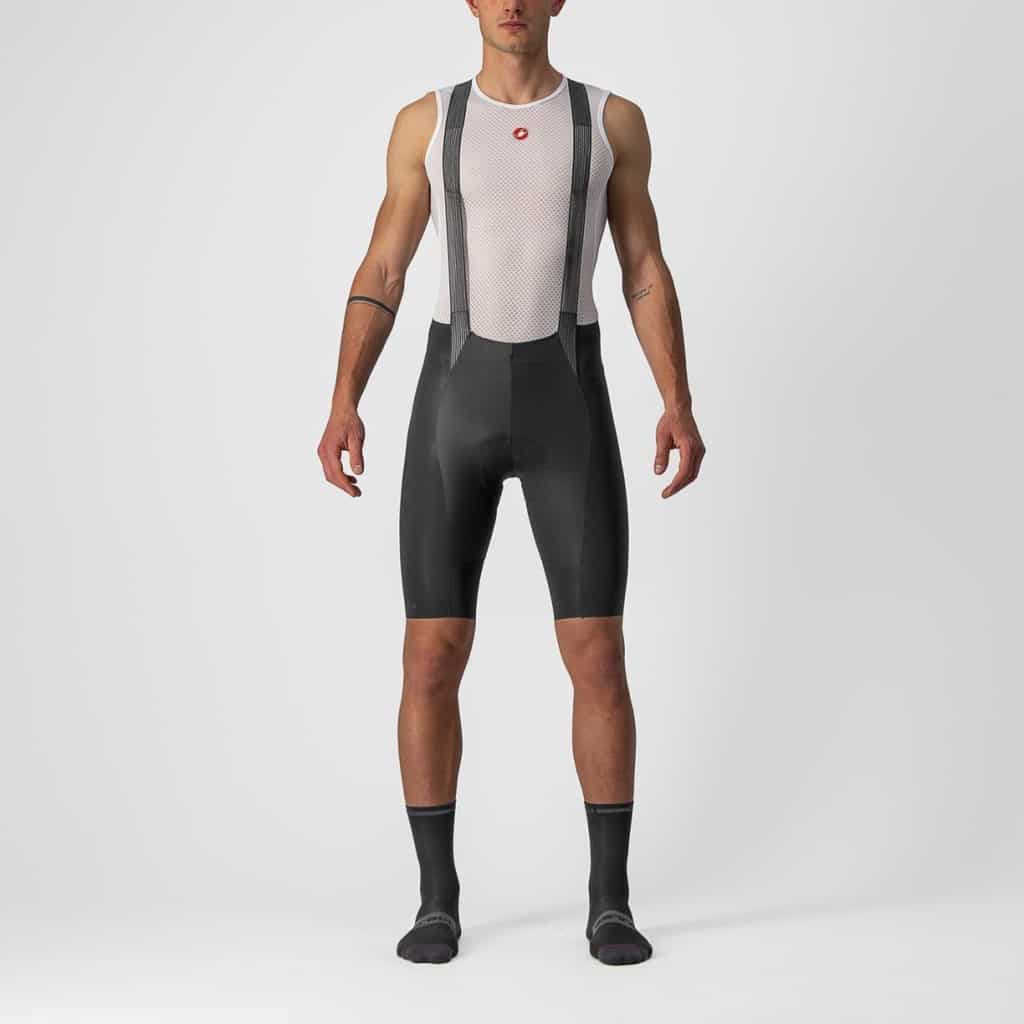 The Castelli Free Aero RC Pro is a top-of-the-line race bib short. It's Quick-Step Alpha Vinyl's go-to bib shorts for the majority of the season.
Now in its fifth generation in the past decade, it uses Castelli's best chamois, the Progetto X2, and has visible Vortex dimples on the sides for added aerodynamic benefits. It uses raw-cut grippers are the thigh without needing silicone to stay put, unlike its predecessors. This leads to an improved grip with a larger distribution area.
Colors : Black, Dark Grey, Savile Blue
Weight : 183g (Large)
RRP : $220
Castelli Endurance 3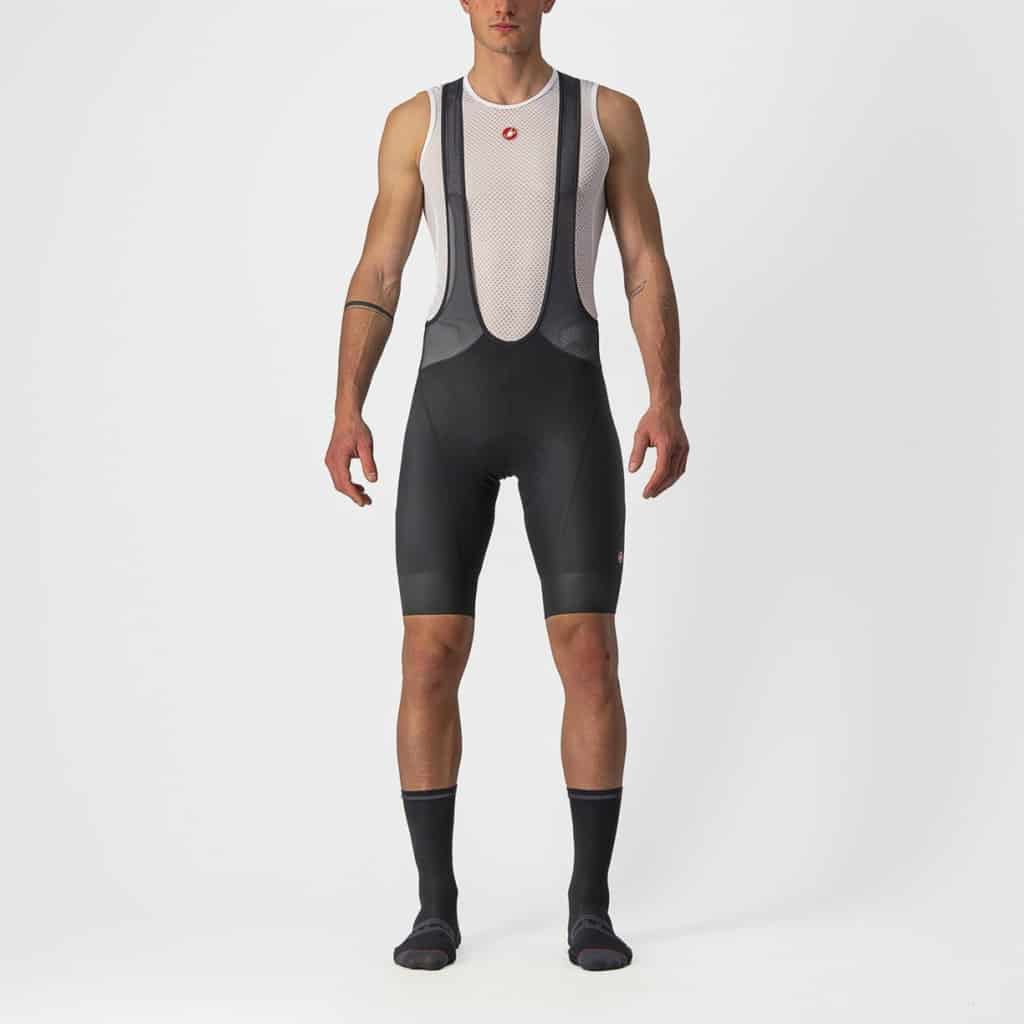 The Castelli Endurance 3 is a mid-range bib short. Designed with recreational cyclists in mind, the focus is on comfort while keeping the price affordable.
It features the same Progetto X2 chamois used in the Castelli Free Aero RC Pro but an older generation Giro3 grippers together with mid-tiered Endurance Evolution fabric.
Colors : Black, Savile Blue
Weight : 186g (Large)
RRP : $160
Castelli Unlimited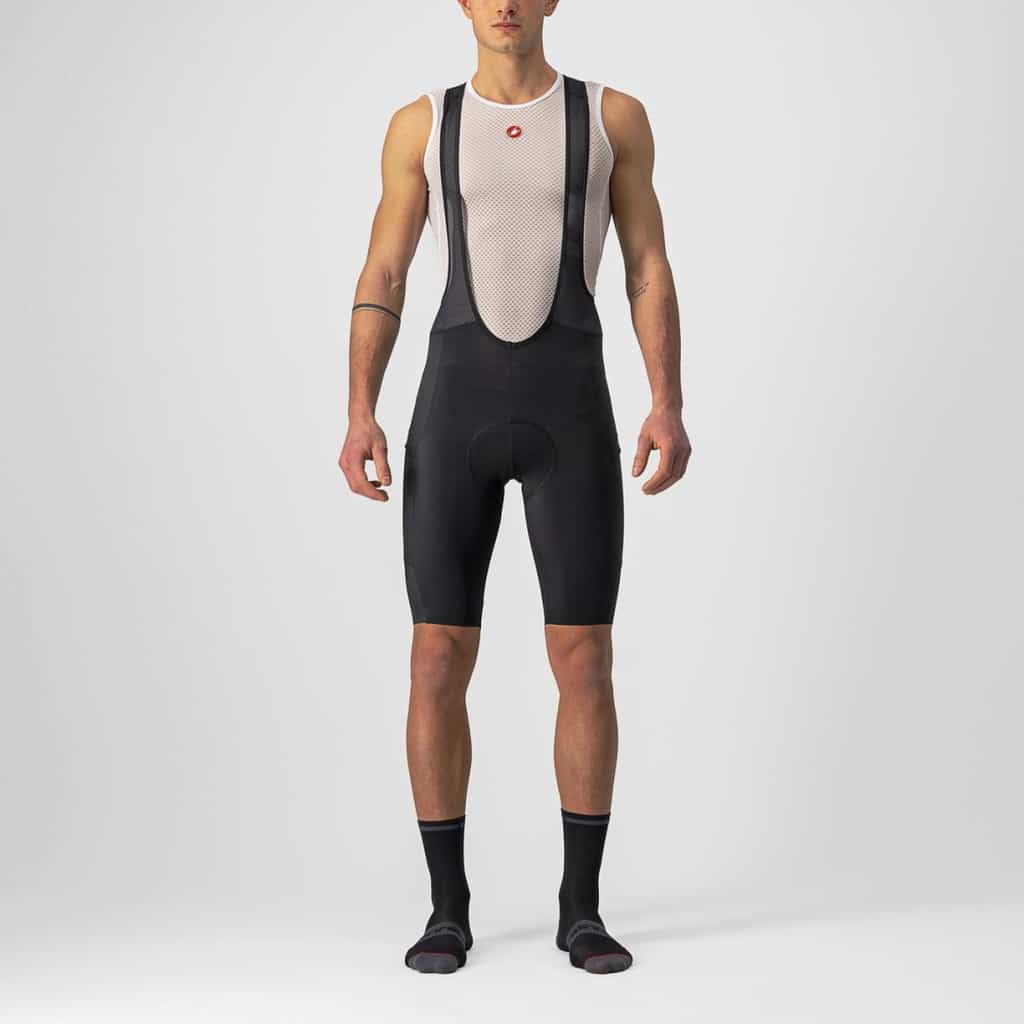 The Castelli Unlimited is a budget, durable bib short. It's the cheaper version of the Free Protect Race bib shorts.
It features the same Protekt fabrics on the sides but uses the Kiss Air 2 chamois instead of the premium Progetto X2. Designed with gravel and off-road riders in mind, there are four hidden pockets at the sides and back for additional storage.
Colors : Black, Forest gray
Weight : 200g (Large)
RRP : $150
Castelli Competizione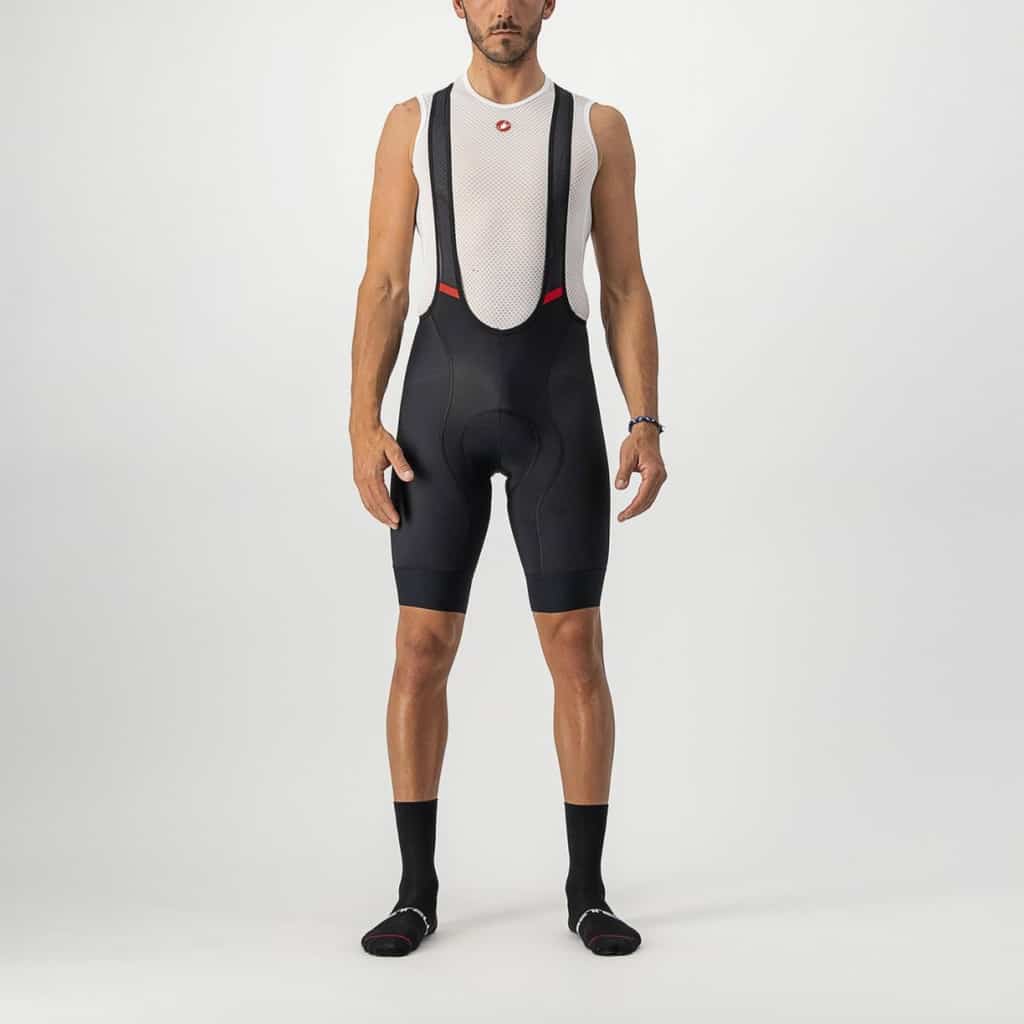 The Castelli Competizione is another budget bib short designed with recreational cyclists in mind.
It has the same Kiss Air 2 chamois as the Endurance 3 bib shorts but uses a different Lycra fabric and has the newer Giro4 grippers. The side panels are textured for added aerodynamic benefits, similar to the Free Aero Race 4.
Colors : Black, Dark Grey, Savile Blue, Military Green
Weight : 173g (Large)
RRP : $140
Castelli Entrata 3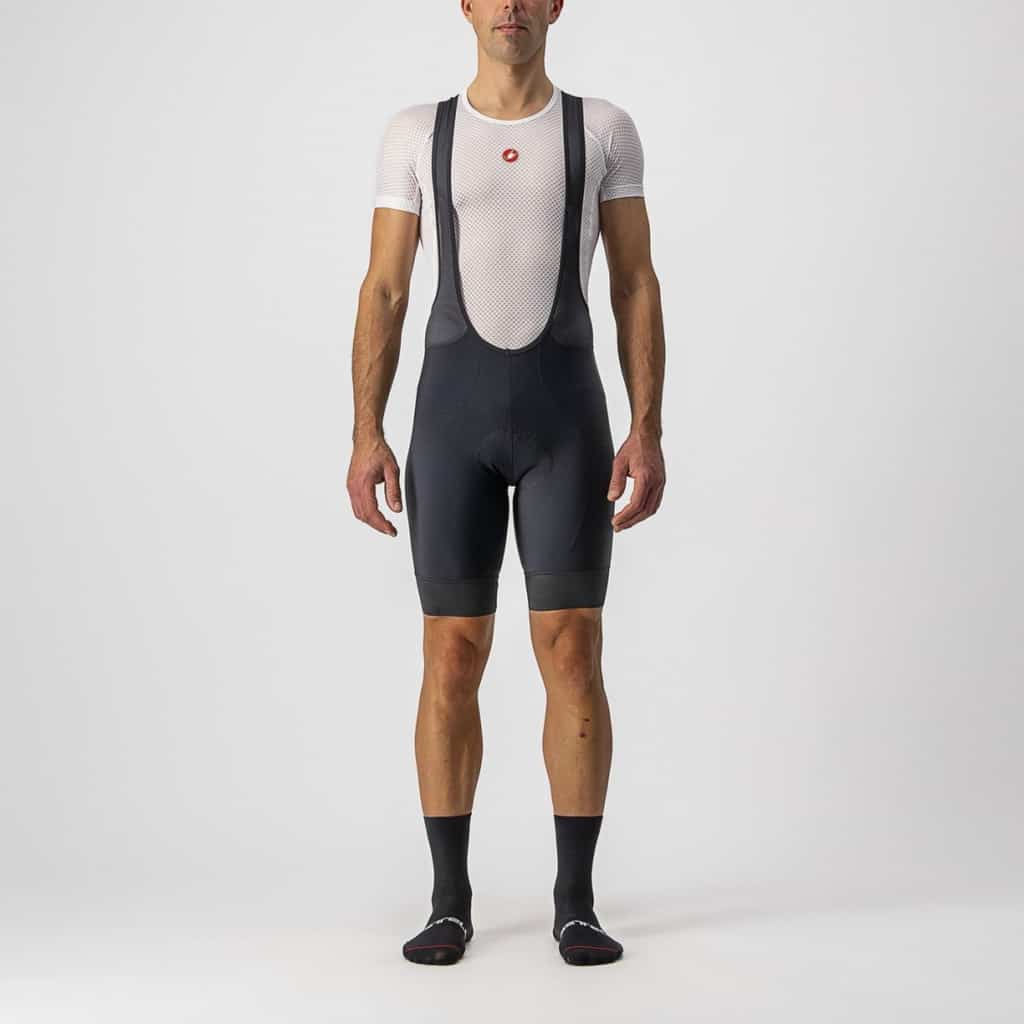 The Castelli Entrata 3 is an entry-level bib short.
Although it's designed for budget-conscious cyclists, it still features some technologies in more expensive bibs. The Kiss Air 2 and Giro 3 grippers ensure that comfort is not sacrificed in place of price.
Colors : Black, Savile Blue
Weight : 175g (Large)
RRP : $100