Have you ever wondered how three of the leading cycling clothing brands compare?
Having worn Assos, Castelli, and Rapha clothing for many years, they are undoubtedly the best brands for cycling clothing.
In this article, I'll compare Assos, Castelli, and Rapha clothing product lineups for you to understand better what they offer.
Assos, Castelli, and Rapha clothing lineup
Being established brands, Assos, Castelli, and Rapha have a full range of cycling clothing from head to toe.
Assos' lineup is split into two;
EQUIPE Racing Series (top-of-the-line, race fit)
MILLE Comfort Series (mid to top-of-the-line, relaxed fit)
Castelli's lineup can be broadly categorized into two;
Rosso Corsa is reserved for Castelli's top-of-the-line clothing and is denoted by RC. It uses the best materials, and sizing is race cut.
Regular is everything else, from budget to mid-range.
Rapha's lineup is easily understood and can be categorized into five;
Pro Team (top of the line, race fit)
Core (budget to mid-tier, relaxed fit)
Classic (budget to mid-tier, relaxed fit)
Brevet (mid-tier, insulated, relaxed fit)
Trail (gravel and mtb)
The tables below show some popular Assos, Castelli, and Rapha clothing models.
Assos, Castelli, and Rapha jackets
Assos vs Castelli vs Rapha jackets
Assos, Castelli, and Rapha base layers
Assos vs Castelli vs Rapha base layers
Assos, Castelli, and Rapha gloves
Assos vs Castelli vs Rapha gloves
Assos, Castelli, and Rapha socks and shoe covers
Assos vs Castelli vs Rapha socks and shoe covers
Assos, Castelli, and Rapha sizing
Rapha and Castelli sizing are true to size throughout the range except for the Pro Team and Rosso Corsa range. The jerseys for these run smaller, and many cyclists tend to go one (or two sizes) up if they're purchasing the Pro Team or Rosso Corsa range.
Rapha has a Jersey Downsize Offer where they will provide a 50% discount on the new jersey size. There is a simple application form to fill up together with a photo of yourself in a current jersey.
Assos doesn't publish their size charts anymore. Instead, they use an interactive calculator where you enter your height, weight, and age. Based on their database, the calculator will then suggest your ideal size and indicate if the clothing is very tight, tight, or loose fit at the chest, waist, and hip areas.
Where to buy Assos, Castelli, and Rapha
Rapha clothing is available on its official website with worldwide shipping. They're also available at their clubhouses in North America (8), Europe (7), and Asia (6). In recent years, Rapha has also partnered with selected local bike shops and made their clothing available there.
Castelli clothing is widely available from large retailers such as Competitive Cyclist (North America), Wiggle (Europe), Pushys (Australia), and many local bike shops. In recent years, Castelli has been growing their online shop.
Assos clothing is available on their website and in major cycling retailers. They offer a 10% discount for first-time customers who sign up for their newsletter.
Crash and repair services
| | Assos | Castelli | Rapha |
| --- | --- | --- | --- |
| Repairs | First 30 days | Not available | Free, lifetime |
Assos vs Castelli vs Rapha crash and repair services
Rapha offers free lifetime repair services for most of their clothing as long as valid proof of purchase can be presented. Check Rapha's website for the list of excluded clothing. The repair duration can take up to four weeks, depending on material and resource availability.
Castelli doesn't offer crash and repair services at the moment.
Assos will repair the clothing for free if damaged within the first 30 days of purchase. Beyond that, there might be a cost involved and is evaluated case-by-case basis.
Returns and exchanges
| | Assos | Castelli | Rapha |
| --- | --- | --- | --- |
| Return period | 30 days | 30 days | 90 days |
Assos vs Castelli vs Rapha returns and exchanges
Rapha accepts returns and exchanges for up to 90 days for unused items. The return postage is free, or you can walk into any of the Rapha clubhouses.
Castelli accepts free returns for up to 30 days for unused items purchased from their website. For Castelli clothing purchased elsewhere, check the merchant's return policy. There are no exchange services available.
Assos accepts free returns for a full refund within 30 days of purchase. The item must be unused and in its original packaging.
History of Assos, Castelli, and Rapha
Assos was started by Tony Maier-Moussa, a keen cyclist and skier, in 1976 in Switzerland. His initial product was a carbon bike, but he pivoted to creating Lycra cycling shorts due to logistical difficulties in obtaining the carbon materials. His wife, Elaine Maier-Moussa came up with the name Assos, which means the first, the best in Greek. Assos remained a family business until 2015 when the family sold a majority stake to an investment group.
Castelli was founded in Milan in 1876 by a tailor named Vittore Gianni. It wasn't until 1910 that Vittore Gianne started manufacturing cycling clothing. In 1939, Armando Castelli, who had worked for Vittore Gianni since 1935, bought over the business and renamed it Castelli. The famous Castelli scorpion logo that we know today was conceived in 1974 and has gone through several revisions in the last 50 years.
Rapha was founded in London by Simon Mottram and Luke Scheybeler in 2004. Simon Mottram was a director of brand consultancy at Interbrand and a trained accountant before Rapha. Simon was the face of Rapha for its first decade of existence. Luke Scheybeler, Rapha's creative director, designed the distinctive left arm stripe. Luke left Rapha in 2009 to set up Scheybeler+Company.
Owners of Assos, Castelli, and Rapha
Assos is majority-owned by an investment group consisting of New York private equity firm TZP Group, Greg Avis, and Philip N. Duff, currently the CEO.
Castelli is owned by MVC Group, a leading high-performance cycling and winter sports clothing manufacturer. MVC Group also owns other brands, such as Sportful and Karpos.
Rapha is majority-owned by RZC Investments after a £150 million deal in early 2017. RZC Investments is run by Steuart and Tom Walton (grandsons of Sam Walton, who founded Walmart). Simon Mottram and private equity firm Active Investors still hold a minority stake in Rapha.
Sponsored athletes and teams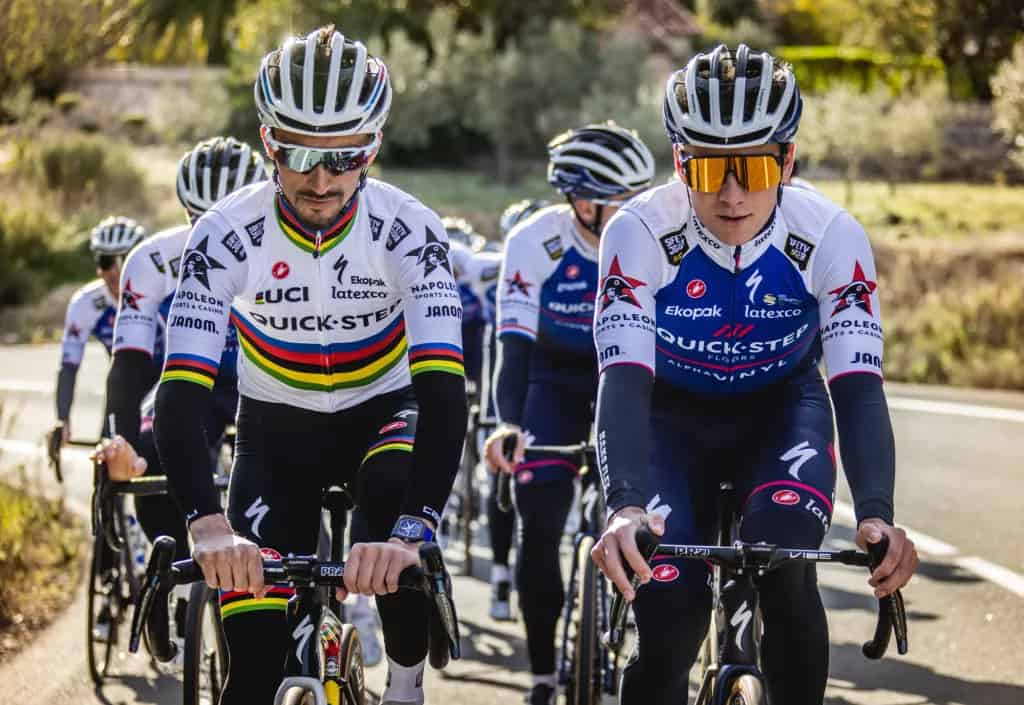 From 2022, Castelli is currently the official kit sponsor of the Quick-Step Alpha Vinyl team.
Castelli also supplied the leaders' jerseys at the Giro d'Italia and Tour de France in the late 80s and early 90s. From 2017 onwards, Castelli is the official kit supplier for the Giro d' Italia.
Castelli has a long and rich history of sponsoring successful athletes. Its first customer was five-time Giro d'Italia winner Alfredo Binda. Successful cyclists like Fausto Coppi, Jacques Anquetil, Carlos Sastre, Chris Froome, and Julian Alaphilippe have worn Castelli kits.
Rapha is synonymous with Team Sky during its most successful period from 2013 to 2016. Chris Froome won 2013, 2014, and 2016 Tour de France wearing a Rapha kit. In 2022, Rapha is the official kit supplier for EF Education-EasyPost, EF Education-TIBVO-SVB, and Canyon SRAM Women Cycling.
Assos sponsored World Tour Team Qhubeka ASSOS until 2021 before the team management shut down. Besides Team Qhubeka ASSOS, Assos is the clothing supplier for the Swiss national cycling team with the likes of Fabian Cancellara.