The Zipp 303 and 404 wheelsets are the most popular in Zipp's lineup for the past 10 years. They have been many cyclists' preferred wheelset for their aerodynamics and weight.
The 303, a mid-depth wheelset (40 to 45mm deep) is sometimes referred to as an all-rounder wheelset that excels in both rolling and hilly terrains. The 404, a deeper wheelset (50 to 55mm deep) excels in the flat terrains.
Between mid-2020 to mid-2021, Zipp refreshed both the 303 and 404 lineups with six new models.
Zipp 303 S Tubeless (May 2020)
Zipp 303 Firecrest Tubeless (June 2020)
Zipp 353 NSW Tubeless (April 2021)
Zipp 404 Firecrest Tubeless (June 2021)
Zipp 454 NSW Tubeless (June 2021)
Zipp 454 NSW Tubular (June 2021)
We'll take a deeper look at each model and the differences between each of them.
Rim width
| Model | Inner width | Outer width |
| --- | --- | --- |
| Zipp 303S | 23mm | 27mm |
| Zipp 303 Firecrest | 25mm | 30mm |
| Zipp 353 NSW | 25mm | 30mm |
| Zipp 404 Firecrest | 23mm | 28mm |
| Zipp 454 NSW | 23mm | 28mm |
Rim depths of Zipp wheelsets
At the time of writing, the majority of tubeless wheelsets for road bikes have an internal rim width between 17 to 22mm, and an external rim between 23 to 25mm.
The Zipp 303 Firecrest and 353 NSW are the widest among all with a rim width of 25mm (inner) and 30mm (outer). The 303S is slightly narrower at 23mm (inner) and 27mm (outer). Both models are optimized for 28mm tires.
On the other hand, the Zipp 404 Firecrest and 454 NSW have a 23mm (inner) and 28mm (outer) rim width and are optimized for 25mm tires. Having said that, not all 25mm tires are compatible. More below.
Tire compatibility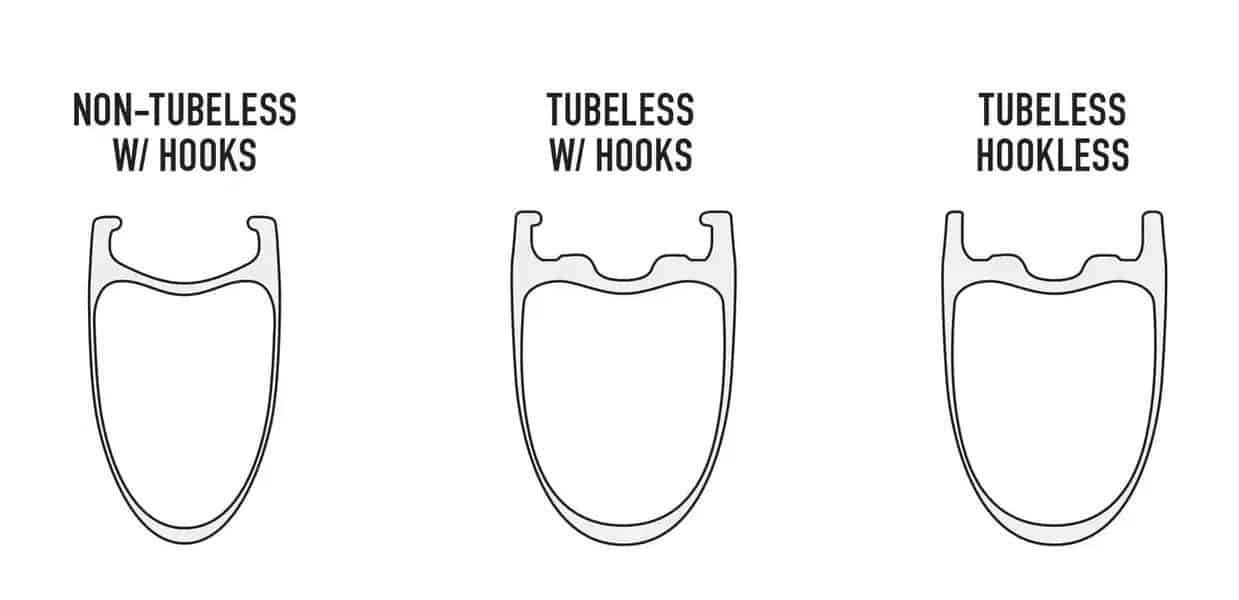 All Zipp 303 and 404 models have a hookless rim design, which doesn't have a hook on the inside. The protruding hooks, like the ones found in clincher and most traditional tubeless rims, allow the tires to stay on the wheel when under pressure.
The hookless rims are flush and flat on the inside. It's also referred to as Tubeless Straight Sidewall (TSS) and is often quoted by tubeless tire manufacturers such as Continental.
Keep in mind that not all tubeless tires in the market today are compatible with hookless rims. Newly launched tubeless tires will likely be compatible with hookless rims. Be sure to check the tire specifications before purchasing or installing. Zipp has recently updated their hookless tire compatibility chart.
Some of the hookless rim compatible tires available today are the Continental GP 5000 S TR, Pirelli P Zero Race TLR, Goodyear Eagle F1 Supersport, Specialized S-Works Turbo Rapidair 2Bliss Ready, and Schwalbe Pro One TLE among others.
Rim depth
| Model | Rim depth |
| --- | --- |
| Zipp 303S | 45mm |
| Zipp 303 Firecrest | 40mm |
| Zipp 353 NSW | 40 to 45mm (Sawtooth design) |
| Zipp 404 Firecrest | 58mm |
| Zipp 454 NSW | 53 to 58mm (Sawtooth design) |
Rim depths of Zipp wheelsets
The main difference between the 303 and 404 has always been the rim depth.
A deeper rim (>50mm) would excel in the flats as they're more aerodynamic and can hold the speed better, especially above 25mph (40kph). However, they're heavier and more sluggish during acceleration to pick up speed. The sprinters would always opt for a deep wheelset for sprint stages.
A shallower rim (<30mm) excels in hilly terrains as they're lighter and accelerate quicker. The climbers would choose shallower rims, sometimes as shallow as 20mm for the mountain stages.
The 303 is between 40 to 45mm deep, depending on the model, and is often labeled as an all-rounder wheel as they're versatile for all types of terrains. The 404 is 30% deeper than the 303, with a depth between 53 to 58mm.
The NSW models have a Sawtooth design where the rim depth alternates between 40/45mm (for 353 NSW) and 53/58mm (for 454 NSW). Zipp claims that the Sawtooth design helps to reduce drag and maintain balance when riding in cross-wind conditions across all yaw angles.
Hub design
| Model | Hub |
| --- | --- |
| Zipp 303S | 77/176 |
| Zipp 303 Firecrest | ZR1 |
| Zipp 353 NSW | Cognition V2 |
| Zipp 404 Firecrest | ZR1 |
| Zipp 454 NSW | Cognition V2 |
Hub models of Zipp wheelsets
Zipp introduced two new hub designs with the current 303's and 404's; the ZR1 and Cognition V2.
Cognition V2 hub is Zipp's most advanced hub design to date and is used in the Zipp 353 NSW and 454 NSW models. It uses the AxialCluch technology which is more efficient due to the reduction in drag between the hub shell and driver body. It has better protection against the elements with an improved seal design.
ZR1 hub is used in the Zipp 303 Firecrest and 404 Firecrest models. It has 66 points of engagements vs 33 in the Cognition V2 hub, making it slightly noisier when freewheeling, but more responsive during accelerations.
76/176 hub which is used in the previous 303 and 404 generations is used in the Zipp 303S to bring down the overall cost.
The driver bodies are available in SRAM/Shimano 11-speed, SRAM XDR, and Campagnolo. There is no Shimano 12-speed driver body at the moment, although a Shimano 12-speed cassette can be used on the SRAM/Shimano 11-speed body.
On a side note, there is a Zipp 303SE made exclusively for Scott. The Zipp 303SE is specced in top-of-the-line 2022 Scott Addict RC and Scott Foil RC models. The difference between the Zipp 303S and 303SE is the hub, where the 303SE uses a Syncros hub instead of the 76/176 hub.
Weight
| Model (for XDR body) | Front | Rear | Wheelset |
| --- | --- | --- | --- |
| Zipp 303S | 711g | 819g | 1,530g |
| Zipp 303 Firecrest | 613g | 739g | 1,352g |
| Zipp 353 NSW | 580g | 675g | 1,255g |
| Zipp 404 Firecrest | 660g | 790g | 1,450g |
| Zipp 454 NSW | 631g | 727g | 1,358g |
Weight Zipp wheelsets
The latest Zipp 303 and 404 lineup has seen a major weight reduction across all models (except the 303S). They all weigh below 1,500g with the SRAM XDR body models being the lightest among all.
Zipp attributes the weight reduction to the hookless rim profile. The combination of a straight sidewall, lesser materials, and a new carbon resin allows significant weight reductions.
The Zipp 353 NSW is the lightest, followed by 303 Firecrest, 454 NSW, 404 Firecrest, and 303S.
Pricing and availability
| Model | Wheelset (USD) |
| --- | --- |
| Zipp 303S | $1,014 to $1,095 |
| Zipp 303 Firecrest | $1,500 to $1,581 |
| Zipp 353 NSW | $2,861 to $3,497 |
| Zipp 404 Firecrest | $1,481 to $1,581 |
| Zipp 454 NSW | $2,861 to $3,497 |
Pricing of Zipp wheelsets
Pricing starts from $1,300 for Zipp 303S and goes up to $3,500 for the Zipp 454 NSW.
They can be purchased as a wheelset, or individually (front or rear). Most large online retailers such as Competitive Cyclist (North America), Jenson USA (North America), and Wiggle (UK) carry Zipp wheels. You cannot purchase Zipp wheels outside of your country due to dealer agreements.
Alternatively, enquire at your local bike shop.
Which one is for you?
Each model is designed to excel in certain areas and have its pros and cons. With five models to choose from, one of the most common questions cyclists have is, which one is for me?
Zipp 303 Firecrest is my value for money pick. It's the sweet spot between weight, performance and price point ($$). The 40mm deep rim is an all-rounder and excels in both hills and flats. The wider internal rim width allows low tire pressure on a 28 or 30mm tire.
Zipp 303S is an affordable, entry level, carbon wheelset. Although marketed as a gravel wheelset, it's equally at home for road rides.
Zipp 353 NSW, if you want a top of the line, performance wheelset for races on rolling and/or hilly terrains.
Zipp 454 NSW, if you race competitively in flat criteriums or triathlons.