Using the correct stem length is crucial for your bike handling, riding comfort, and preventing long-term injuries.
This guide will discuss how are bike stems measured.
Common stem lengths
Stem lengths vary based on the type of bike, bike geometry, rider preferences, and riding style.
Road bike stems range from 80 to 130mm in length; Short (80 to 90mm), Medium (100 to 110mm), and Long (120 to 130mm).
Mountain bike stems range from 30 to 100mm, depending on the type of bike; XC Cross Country (60 to 100mm, Trail (40 to 70mm), Enduro/All-Mountain (30 to50mm) and Downhill (30 to 50mm).
Gravel bike stems range from 70 to 130mm in length; Short (70 to 90mm), Medium (100 to 110mm), and Long (120 to 130mm).
Shorter stems offer increased maneuverability and responsiveness, while longer stems provide more stability and a stretched-out riding position for improved aerodynamics.
How to measure stem length
You can easily measure the stem length using a ruler or tape measure at home. The length is usually measured in millimeters, typically between 70 to 130mm.
There are two measurements that all manufacturers use.
Stem length (reach)
Stem length is the effective length from the center point of the steerer tube bore to the center of the handlebar clamp.
Stem length usually comes in 10mm increments, starting from 70mm to 150mm, depending on the brand.
Stem angle (tilt)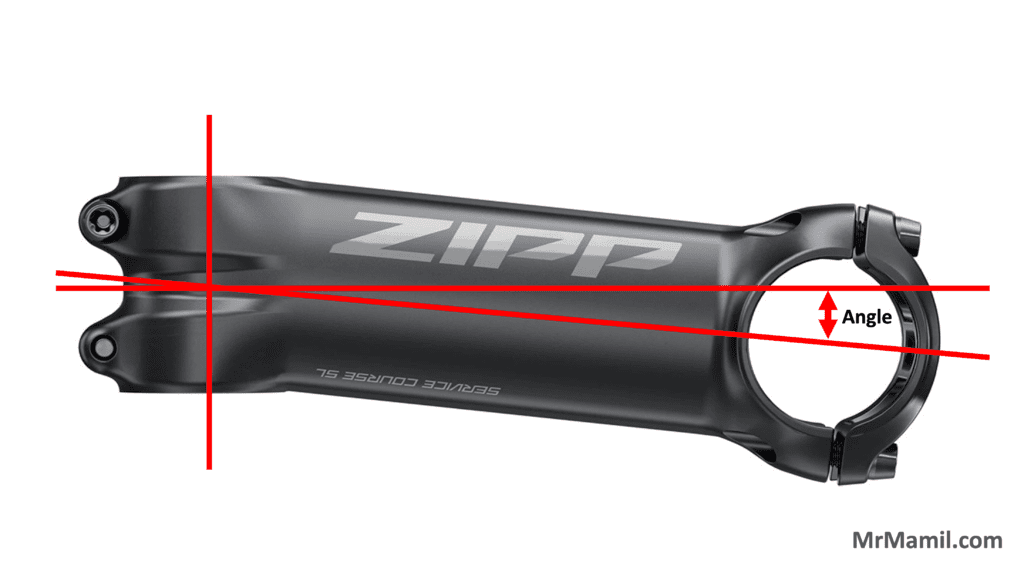 Stem angle is the tilt up/down measured from the imaginary line parallel to the ground. The stem tilts upwards with a positive angle, and downwards with a negative angle.
The stem angles can range from ± 6º to 20º. The most common angle is 6º. Some stem especially older models, can be flipped, making a +6º to be -6º and vice versa. One-piece handlebars (stem-handlebar combo) are not flippable and generally have a positive stem angle.
Road bikes have a head tube angle between 70º to 74º (the smaller the frame, the lower the head tube angle). Thus, a -17º stem will look almost parallel to the ground, while a -6º stem will look slightly tilted up.
Steerer tube diameter
This measurement is the diameter (in inches) of the steerer tube on which the stem will be mounted on.
The majority of road bikes, with the exception of Canyon and Giant use a 1 ⅛" diameter steerer tube. Giant and Canyon use a wider, 1 ¼" steerer tube diameter.
Keep in mind that not all stem manufacturers make stems for a 1 ¼" diameter.
Handlebar clamp diameter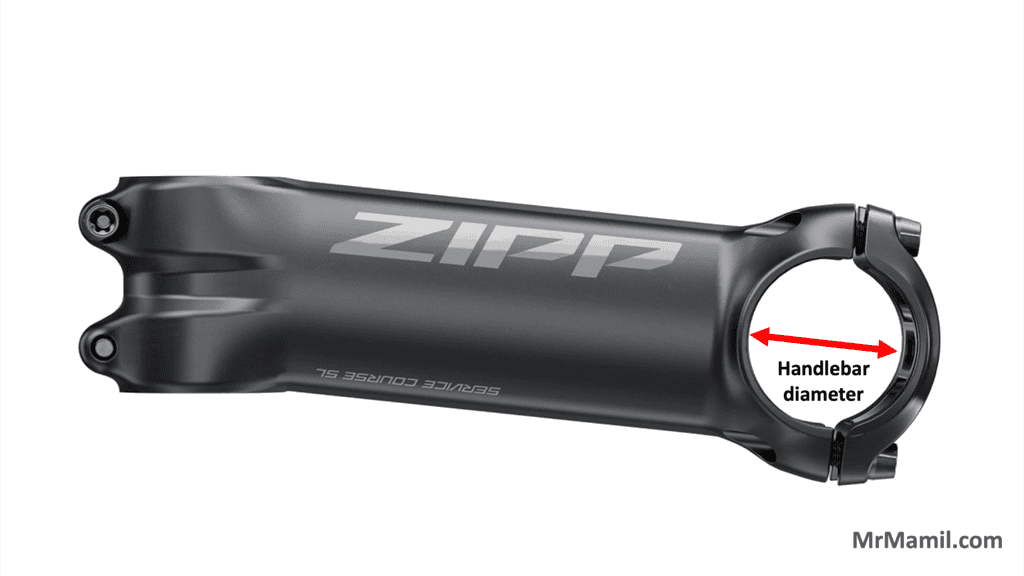 This measurement is the diameter (in millimeters) of the handlebars.
Most road bike handlebars are 31.8mm (31.75mm to be precise), except for selected models from Deda, which have a 35mm diameter.
This measurement is not applicable for one-piece handlebars.
Importance of using the correct stem length and angle
The stem length and angle have a great influence on your bike handling and positioning. It acts as a steering lever arm.
A longer stem is more stable at high speeds but less responsive.
A shorter stem is more responsive (hence why mountain bikes have very short stems) but less stable at high speeds cornering.
A positive angle puts you in a more upright and comfortable position but less aero.
A negative angle puts you lower and more aero. Be careful not to go too low, too soon, as you might experience lower back pain.
The sweet spot for most amateur cyclists is a stem length between 100 to 120mm with an angle of -6º.
If you need a shorter stem, it's a sign that the bike frame might be too big for you. If you need a longer stem, you're probably riding a bike frame one size smaller than your ideal size.
It's easier to rectify the bike position on a smaller rather than a larger bike. Ideally, you want to buy the correct bike size from the start.
The ideal stem length is not always a clear-cut decision. It's common to see pro cyclists using longer stem lengths from 120 to 140mm. They're known for preferring smaller bikes and have better flexibility than amateur cyclists.