This article compares the differences between the Canyon Ultimate and Giant TCR Advanced.
The comparison covers the model lineups, specifications, and retail pricing. It compares the carbon fiber technology (Canyon Carbon Fiber vs Giant Advanced Composite) and frameset technologies on each bike.
The objective is to provide you with a clearer understanding of Canyon Ultimate vs Giant TCR Advanced before making the purchasing decision.
Canyon Ultimate
Giant TCR Advanced
Type of bike
All-rounder
All-rounder
Frame material
CFR carbon
CF SLX carbon
CF SL carbon
Advanced-SL carbon
Advanced carbon
Frame sizes
XXS, XS, S, M, L, XL, XXL
XS, S, M, ML, L, XL
Groupset
Shimano, SRAM (12-speed)
Shimano, SRAM (12-speed)
Brakes
Hydraulic disc
Hydraulic disc
Price (USD)
$3,999 to $9,999
$6,500 to $12,200
Overview of Canyon Ultimate and Giant TCR Advanced
Canyon Ultimate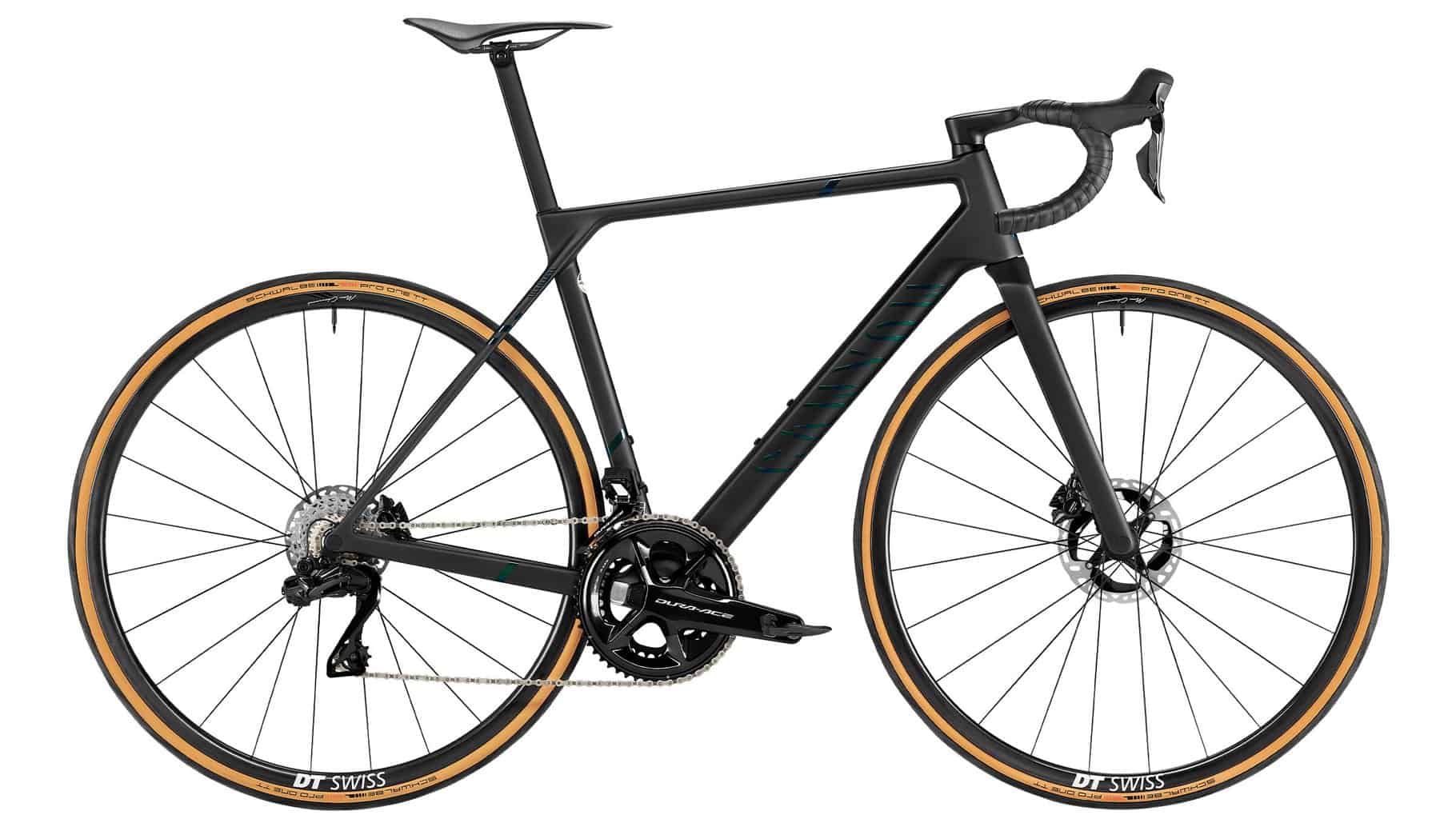 The Canyon Ultimate is an all-rounder bike. Canyon claims that the Ultimate has an unrivaled stiffness-to-weight ratio, debunking the myth that a lightweight bike is not stiff enough to perform at the highest levels of cycling.
It's the bike the pros rode to two World Championships and three Grand Tours wins in recent years with Alejandro Valverde, Nairo Quintana, and Richard Carapaz.
The flagship model, Canyon Ultimate CFR is the latest addition with the lightest setup weighing 6.52kg. The Ultimate CFR has the best electronic shifting groupsets from SRAM or Shimano. Next in line is the CF SLX weighing 6.98kg, and CF at 7.6kg.
| Model | Frame material | Groupset | Wheelset | Retail price (USD) |
| --- | --- | --- | --- | --- |
| Canyon Ultimate CFR eTap | CFR carbon | SRAM Red eTap AXS | Zipp 353 NSW | $9,999 |
| Canyon Ultimate CFR Di2 | CFR carbon | Shimano Dura-Ace Di2 | DT Swiss PRC 1100 | $9,499 |
| Canyon Ultimate CF SLX 9 Di2 | CF SLX carbon | Shimano Dura-Ace Di2 | DT Swiss ARC 1100 | $6,999 |
| Canyon Ultimate CF SLX 8 Di2 | CF SLX carbon | Shimano Ultegra Di2 (R9200) | DT Swiss ARC 1400 | $5,499 |
| Canyon Ultimate CF SL 7 | CF SL carbon | SRAM Rival eTap AXS | DT Swiss P 1800 | $3,999 |
Canyon Ultimate models lineup
Canyon Ultimate vs others
Giant TCR Advanced
The top-tiered Giant TCR Advanced SL uses the super light Advanced-SL carbon, has an integrated seat post, and is specced with Shimano Dura-Ace Di2 (R9200) or SRAM Force eTap AXS. The Giant TCR Advanced Pro sits in the mid-range, uses a lower-grade carbon fiber (Advanced carbon), and is slightly heavier.
The framesets are available in the Advanced SL and Advanced Pro versions for those looking to custom-build their bikes.
| Model | Frame material | Groupset | Wheelset | Retail price (USD) |
| --- | --- | --- | --- | --- |
| Giant TCR Advanced SL 0 | Advanced SL carbon | Shimano Dura-Ace Di2 (R9200) | CADEX 36 | $12,200 |
| Giant TCR Advanced SL 1 | Advanced SL carbon | SRAM Force eTap AXS | Giant SLR 1 36 | $9,200 |
| Giant TCR Advanced Pro 0 AR | Advanced carbon | SRAM Force eTap AXS | Giant SLR 1 36 | $6,700 |
| Giant TCR Advanced Pro 0 | Advanced carbon | Shimano Ultegra Di2 (R8100) | Giant SLR 1 36 | $6,500 |
Giant TCR Advanced models lineup
Giant TCR Advanced vs others
Canyon vs Giant carbon fiber
Canyon Carbon Fiber (CF)
Canyon's innovative approach to bike design includes the utilization of advanced carbon fiber technology, resulting in performance-oriented bicycles that offer remarkable strength, reduced weight, and improved ride quality.
Canyon employs three main types of carbon fiber in their range of bikes; CFR, CF SLX, and CF SL, each offering unique benefits to cater to your needs and budgets.
Canyon CFR (Canyon Factory Racing) Carbon is the top-tier carbon fiber used by Canyon, designed for maximum performance. Bikes built with CFR carbon are the lightest and stiffest in the Canyon line-up, favored by professional racers and serious enthusiasts alike. The CFR series represents the pinnacle of Canyon's engineering prowess and innovation, employing state-of-the-art materials and advanced manufacturing techniques.
Canyon CF SLX Carbon is a step below CFR, but it still offers exceptional performance characteristics. It used to be the highest-grade carbon in Canyon's arsenal until the introduction of the CFR series. Bikes with CF SLX carbon frames provide a perfect balance of weight, stiffness, and comfort, making them highly versatile for a range of riding conditions.
Canyon CF SL Carbon is the entry-level carbon fiber in Canyon's range, but it still offers excellent performance. While it doesn't quite match the extreme weight savings and stiffness of the CFR and CF SLX grades, CF SL frames are still impressively light and stiff, providing excellent performance for the value. Ideal for cyclists who desire a high-quality, performance-oriented bike without breaking the bank, the CF SL series is a testament to Canyon's commitment to delivering value and performance.
Giant Advanced Composite Carbon
Giant's Advanced Composite Carbon is a proprietary carbon fiber technology used in constructing bicycle frames. It's a high-quality composite material with carbon fibers embedded in a resin matrix.
Using Advanced Composite Carbon, Giant can design frames with specific performance characteristics tailored to different riding disciplines. The material offers excellent vibration-damping properties, enhancing comfort and reducing fatigue on long rides. It also provides efficient power transfer, enabling riders to maximize their pedaling efficiency and accelerate easily.
The Giant Advanced Composite Carbon is available in standard and SL (Super Light) versions.
Advanced SL represents the pinnacle of Giant's carbon fiber engineering and construction. Advanced SL frames undergo additional optimization, utilizing a higher grade of carbon fiber and meticulous layup techniques. It's found in Giant's top-of-the-line bikes.
Advanced is a step down from the top-tier Advanced SL carbon fiber, but it still offers an impressive balance of performance and value for money.
Frameset technologies and innovations
Canyon Ultimate and Giant TCR Advanced framesets incorporate advanced technologies to enhance their bikes' performance and ride characteristics.
Here's an overview of the technologies used in each bike model.
Canyon Ultimate
Name
Description
CFR Carbon
Canyon Factory Racing (CFR) Carbon is the highest-grade carbon fiber used by Canyon. It's designed for ultimate performance, with CFR carbon frames being the lightest and stiffest in Canyon's range. This carbon is employed for the most performance-driven models in Canyon's lineup.
Pro Geometry
Pro Geometry is Canyon's design approach that tailors each bike frame's size with specific tube dimensions and carbon layups, optimizing performance and ride characteristics for riders of different sizes. This ensures that every rider, irrespective of their size, enjoys a consistent and optimal cycling experience.
Adjustable Cockpit CP0018
The Canyon Ultimate CFR and CF SLX feature the innovative Cockpit CP0018, designed for aerodynamic efficiency and versatility. With fully internal cable routing, it offers a clean look and enhanced aerodynamics. The unique wing design allows for easy bike packing, eliminating the hassle of dealing with internal routing.

Its innovative width adjustment feature lets you switch between narrow, medium, and wide settings (390-430mm) using just one tool. It provides a total adjustment range of 40mm (+/- 20mm on each side), allowing you to fine-tune your fit for comfort and efficiency.
CP
Ultimate System Complete
This design principle ensures that the Canyon Ultimate is developed as a complete system, incorporating frame, fork, seat post, stem, handlebar, and even spacers into the design process. The goal is to maximize performance and rider comfort, making the Ultimate a highly-efficient and enjoyable bike to ride.
Aero Testing
Canyon uses cutting-edge technologies and tools to achieve aerodynamic efficiency, including wind tunnel testing and Computational Fluid Dynamics (CFD).

These tools help them simulate and analyze airflow over the bike, enabling Canyon to refine the design for optimal aerodynamics. Canyon's rigorous testing approach ensures the Ultimate offers superior aerodynamic performance.
Canyon Ultimate's frameset features and technologies
Giant TCR Advanced
Name
Description
Advanced Composite Technology
Utilizes Giant's High Performance Grade raw carbon material and Modified Monocoque Construction technique to create a custom frame material. This carbon composite offers a high stiffness-to-weight ratio, balancing lightweight performance and strength.
OverDrive 2
Features advanced steerer tube technology with oversized headset bearings and a tapered steerer tube (1 1/2″ lower, 1 1/4″ upper).

This design optimizes the front-end steering performance, resulting in superior steering stiffness, enhanced control, and precise handling.
Compact Road Design
Originating with the professional Team ONCE in the 1990s, Compact Road Design revolutionized high-performance road bikes.

It involves a downward-sloping top tube, creating smaller front and rear triangles for a lighter, stiffer bike. The design also enables riders of all sizes to find a perfect fit and maintain optimal power transfer.
PowerCore
Incorporates a massively oversized bottom bracket/chainstay area with a fully integrated 86mm wide bottom bracket design (92mm wide for off-road bikes).

The asymmetrical chainstays provide additional stiffness on the drive side and stability on the non-drive side, ensuring efficient power transfer and precise handling.
Giant TCR Advanced's frameset features and technologies
Where to buy
Canyon shops
Giant retailers