In this article, I'll guide you through a comparison between the Canyon Endurace and Pinarello X; both popular road bikes among cyclists.
I'll walk through the Canyon Endurace and Pinarello X models lineup, their specifications, and retail pricing (USD). I'll explain the carbon fiber technology used (Canyon Carbon Fiber vs Pinarello TorayCa Carbon), and unique frameset features for each bike.
The goal is to help you get a better understanding before you make your final purchasing decision.
Canyon Endurace
Pinarello X
Type of bike
Endurance
Endurance
Frame material
CF SLX carbon
CF SL carbon
Toray T600 carbon
Frame sizes
XS, S, M, L, XL
430, 460, 490, 515, 530, 545, 560, 580, 600
Groupset
Shimano, SRAM (12-speed)
Shimano, SRAM (12-speed)
Brakes
Hydraulic disc
Hydraulic disc
Cabling
External
Internal
Price (USD)
$2,699 to $7,899
Check with local retailers
Overview of Canyon Endurace and Pinarello X
Canyon Endurace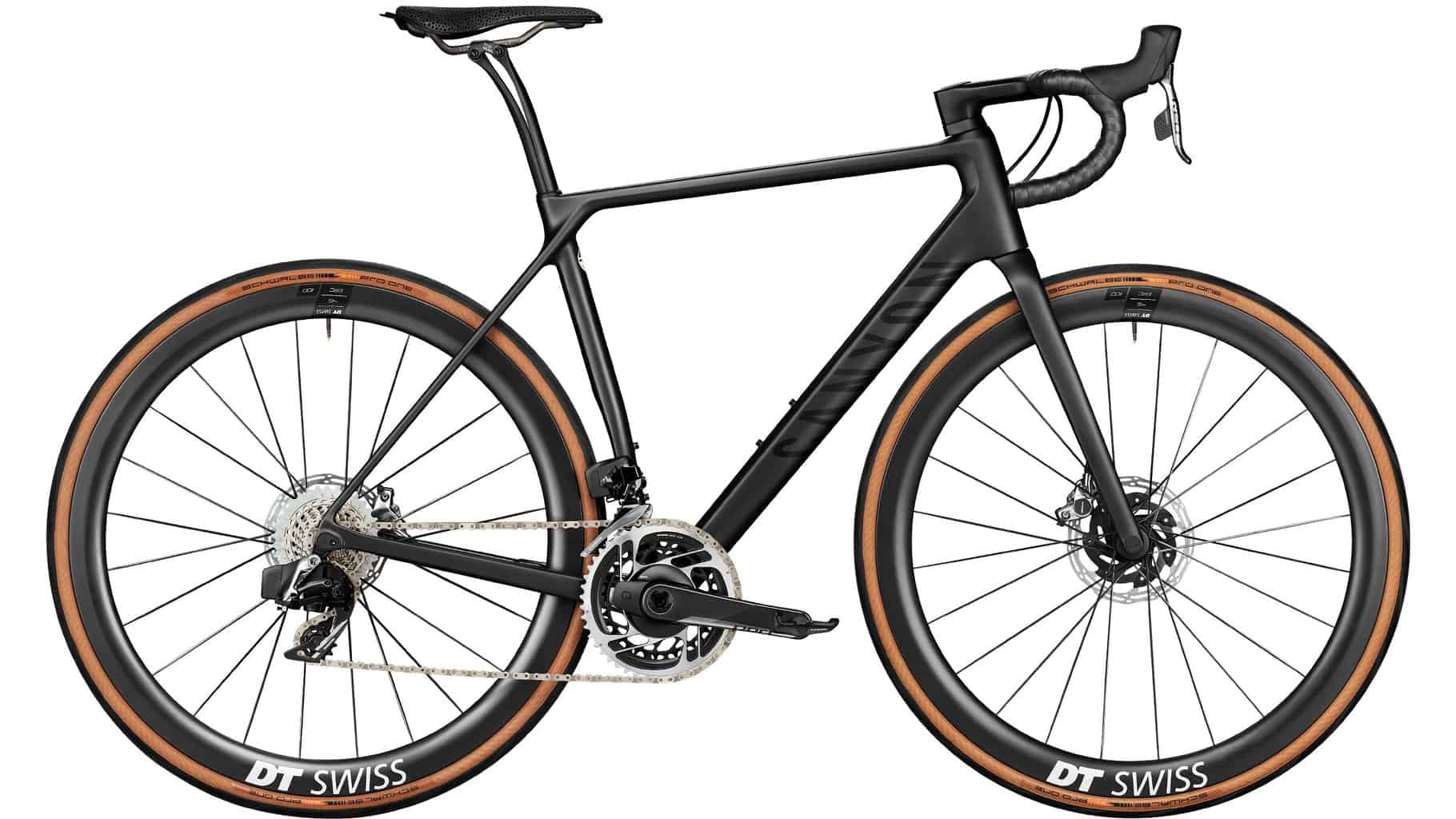 The Canyon Endurace is an endurance bike. It's designed for comfort over stiffness and performance. The frame geometry is more relaxed and puts the rider in a more upright position than the Canyon Aeroad.
Although designed for the tarmac, its 33mm wide tires have no problems tackling hardpacked gravel or dirt roads. Just make sure it's not a single track.
Sits atop the Canyon Endurace lineup is the CFR, followed by CF SLX and CF at the bottom end.
| Model | Frame material | Groupset | Wheelset | Retail price (USD) |
| --- | --- | --- | --- | --- |
| Canyon Endurace CF SLX 9 eTap | CF SLX carbon | SRAM Red eTap AXS | DT Swiss ERC 1100 | $7,899 |
| Canyon Endurace CF SLX 9 Di2 | CF SLX carbon | Shimano Dura-Ace Di2 | DT Swiss ERC 1100 | $7,899 |
| Canyon Endurace CF SL 8 eTap | CF SL carbon | SRAM Force eTap AXS | DT Swiss ERC 1400 | $4,999 |
| Canyon Endurace CF SL 8 Di2 | CF SL carbon | Shimano Ultegra Di2 | DT Swiss ERC 1400 | $4,999 |
| Canyon Endurace CF SL 7 eTap | CF SL carbon | SRAM Rival eTap AXS | DT Swiss Endurance | $2,999 |
| Canyon Endurace CF 7 eTap | CF SL carbon | SRAM Rival eTap AXS | DT Swiss Endurance | $2,999 |
| Canyon Endurace CF 7 Di2 | CF SL carbon | Shimano 105 Di2 | Fulcrum Racing 900 | $2,699 |
Canyon Endurace models lineup
Canyon Endurace vs others
Pinarello X
The Pinarello X series was announced in February 2023 as a direct replacement for the popular Pinarello Paris.
It's an endurance bike that focuses on comfort and compliance. The Pinarello X has a shorter, more upright geometry than the Pinarello Dogma F and F series. Pinarello claims the X series is 21% more compliant than the top-of-the-line, racy Pinarello Dogma F. The standout feature is the rear triangle, which has a Flexy Stay design to dampen road vibrations without resorting to mechanical means such as on the Pinarello K8 in the past.
The Pinarello X is available in 9 frame sizes with a choice of either Shimano 105 Di2, SRAM Rival AXS, or Shimano 105 mechanical shifting.
| Model | Frame material | Groupset | Wheelset |
| --- | --- | --- | --- |
| Pinarello X3 | Toray T600 carbon | Shimano 105 Di2 (R7100) | Fulcrum Racing 800 DB |
| Pinarello X3 | Toray T600 carbon | SRAM Rival eTap AXS | Fulcrum Racing 800 DB |
| Pinarello X1 | Toray T600 carbon | Shimano 105 (R7000) | Shimano WH RS-171 |
Pinarello X models lineup
Pinarello X vs others
Canyon vs Pinarello carbon fiber
Canyon Carbon Fiber (CF)
Canyon's innovative approach to bike design includes the utilization of advanced carbon fiber technology, resulting in performance-oriented bicycles that offer remarkable strength, reduced weight, and improved ride quality.
Canyon employs three main types of carbon fiber in their range of bikes; CFR, CF SLX, and CF SL, each offering unique benefits to cater to your needs and budgets.
Canyon CFR (Canyon Factory Racing) Carbon is the top-tier carbon fiber used by Canyon, designed for maximum performance. Bikes built with CFR carbon are the lightest and stiffest in the Canyon line-up, favored by professional racers and serious enthusiasts alike. The CFR series represents the pinnacle of Canyon's engineering prowess and innovation, employing state-of-the-art materials and advanced manufacturing techniques.
Canyon CF SLX Carbon is a step below CFR, but it still offers exceptional performance characteristics. It used to be the highest-grade carbon in Canyon's arsenal until the introduction of the CFR series. Bikes with CF SLX carbon frames provide a perfect balance of weight, stiffness, and comfort, making them highly versatile for a range of riding conditions.
Canyon CF SL Carbon is the entry-level carbon fiber in Canyon's range, but it still offers excellent performance. While it doesn't quite match the extreme weight savings and stiffness of the CFR and CF SLX grades, CF SL frames are still impressively light and stiff, providing excellent performance for the value. Ideal for cyclists who desire a high-quality, performance-oriented bike without breaking the bank, the CF SL series is a testament to Canyon's commitment to delivering value and performance.
Pinarello TorayCa
Pinarello uses Torayca carbon in their bikes due to the material's performance characteristics and the consistency of its quality. Toray's manufacturing processes ensure a high level of control over the properties of carbon fiber, resulting in a reliable and predictable material.
Different grades of Torayca carbon are used in Pinarello bikes, which are distinguished by their moduli. The T in T1100, T900, T700, and T600 refers to Torayca, and the number denotes the grade of the carbon fiber.
A higher number equates to a higher grade of carbon, which in turn offers more stiffness and less weight, but also typically costs more to produce.
T1100 carbon is the top Pinarello's carbon offering. This high-end carbon fiber blend is created for the ultimate stiffness-to-weight ratio. Utilizing the highest quality carbon fiber available, Pinarello designs frames with T1100 Carbon for their flagship, Pinarello Dogma F series.
T900 carbon is another high-quality carbon fiber offering from Pinarello, albeit slightly less stiff and lightweight than T1100. It's used in the Pinarello F series road bikes, such as the F9 and F7.
T700 carbon is a step down from the T900 but still offers a solid balance between weight, stiffness, and cost. It's found in mid-range models, such as the Pinarello F5.
T600 carbon is the entry level of Pinarello's carbon range, is heavier, less stiff, and more comfortable. It's used in the Endurance road bike series, the Pinarello X.
Frameset technologies and innovations
Canyon Endurace and Pinarello X framesets incorporate advanced technologies to enhance their bikes' performance and ride characteristics.
Here's an overview of the technologies used in each bike model.
Canyon Endurace
| Name | Description |
| --- | --- |
| CF SLX Carbon | Canyon's CF SLX Carbon is an optimized carbon fiber that strikes the perfect balance between weight, stiffness, and compliance. It's used to construct the high-performance models in the Endurace range, offering excellent ride quality and power transfer. |
| Sport Geometry | Unlike Pro Geometry, Sport Geometry caters more towards long-distance comfort rather than aggressive race position. It's designed for the riders who are seeking both performance and comfort for longer rides. |
| Endurace System Complete | Following a similar design principle to the Ultimate, the Endurace is also developed as a complete system, incorporating all elements, from frame to fork, seat post, stem, handlebars, and spacers, during the design process. This integrated approach enhances performance and rider comfort, making the Endurace an ideal companion for endurance riders. |
| Aero Testing | Canyon uses sophisticated tools and technologies like wind tunnel testing and Computational Fluid Dynamics (CFD) to optimize the aerodynamics of the Endurace. By simulating air flow over the bike and fine-tuning the design based on these insights, Canyon ensures that the Endurace combines speed with long-distance comfort. |
Canyon Endurace's frameset features and technologies
Pinarello X
Name
Description
Asymmetric frame
The Pinarello X series has an asymmetric frame that compensates for the unbalanced forces generated by the drivetrain. The right side of the frame is stiffer and stronger than the left side, to improve power transfer and efficiency. The asymmetric frame also enhances the handling and stability of the bike
TiCR
Total Internal Cable Routing (TiCR) is the state-of-the-art internal cable routing system that sets the standard across the whole bike industry. This system is versatile, accommodating both wireless and electro-mechanical group sets.

TiCR completely conceals the cables within the bar/stem or integrated handlebar. This not only enhances the bike's aesthetic appeal but also significantly improves aerodynamic performance and protects the cables from external elements.
FlatBack Profile
The FlatBack Profile is a significant aerodynamic feature in the Pinarello X. Essentially, it's a truncated aerofoil design that provides an aerodynamic advantage while adhering to the 3:1 rule set by the Union Cycliste Internationale (UCI).

By using this design, the bike achieves excellent aerodynamic performance with minimal lateral wind resistance. This means less energy is expended fighting wind resistance, leading to greater speed and efficiency.
Onda Fork
The Onda Fork is a distinctive Pinarello technology that has been around since 2000. This fork's unique design offers precise steering abilities, stability, and a notable reduction of both longitudinal and lateral shocks. It does this by effectively absorbing road vibrations and dissipating them before they can reach the rider, resulting in a smoother, more comfortable ride.
Flex Stays
Flex Stays are designed to absorb road vibrations without reducing the responsiveness of the rear triangle. They are part of the Pinarello X series endurance bike, which is designed for riders who love cycling for pure joy.

Flex stays work by having a curved shape that allows them to flex slightly when the bike encounters bumps or rough surfaces. This flexion helps to smooth out the ride and dampen the shocks that would otherwise be transmitted to the rider's body. The flex stays also have a concave profile on the back, which improves the airflow and reduces the drag.
Pinarello X's frameset features and technologies
Where to buy
Canyon shops
Pinarello retailers