This article will explain step by step how to wear your bicycle helmet correctly so that it can provide you with the best protection in the event of a fall.
Step 1. Place the helmet on your head
The helmet should sit flat on your head without any pressure points. The helmet should be level, and the front rim covering your forehead is about one to two fingers width from your eyebrows.
Make sure you didn't wear it backward. This might sound silly, but it does happen.
Step 2. Place the Y straps under your ear lobes
Use both hands, hold the Y straps and place them under your ear lobes. Make sure the straps sit flat and are not twisted.
The Y straps are not adjustable, and if they get in the way of your ear lobes, you might want to consider a different helmet that fits better.
Step 3. Insert the clip buckle
Buckle up the chin strap. Listen for the click sound as the buckle engages. Give it a gentle pull to ensure it doesn't come off.
Step 4. Adjust the chin strap
Adjust the chin strap's length to eliminate any slack. Tuck away any excess strap in the strap keeper.
The chin strap should be snug against your chin and not dangling around. You should be able to only squeeze two or three fingers in between the strap and your chin.
If there's too much slack, the helmet may come off your head in the event of a crash.
Step 5. Tighten the rear dial
Gradually turn the rear dial clockwise so the retention system is snug against your head. If there's no dial at the rear, it's most likely above, such as Lazer helmets.
Step 6. Ensure the fit is secure
Move your head in all directions, and the helmet should still stay in place. If the helmet moves forward and impedes your vision or backward to expose your forehead, repeat all the steps above.
If all else fails, you might want to consider sizing down.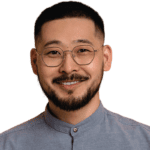 Alex Lee is the founder and editor-at-large of Mr. Mamil. Coming from a professional engineering background, he breaks down technical cycling nuances into an easy-to-understand and digestible format here.
He has been riding road bikes actively for the past 12 years and started racing competitively in the senior category during the summer recently.