With various heart rate monitor options on the market, it can be overwhelming, especially for beginners. To make the best choice, it's important to understand the different types of heart rate monitors available and their ideal use cases.
In this article, I'll break down the different types of heart rate monitors; chest strap, wrist-based, arm-based, and integrated monitors; highlighting their features, benefits, and suitability for various cycling needs.
The table below summarizes the most common types of heart rate monitors. More explanation below.
Type
Measurement method
Accuracy
Comfort
Connectivity options
Price range
Examples
Chest Strap Monitors
Electrical signals
High
Good
ANT+, Bluetooth
$$
Polar H10
Garmin HRM-Dual
Wrist-Based Monitors
Optical sensors
Moderate
High
Bluetooth
$$-$$$
Fitbit Charge 4
Apple Watch
Arm-Based Monitors
Optical sensors
Good
Good
ANT+, Bluetooth
$$
Scosche Rhythm+
Polar Verity
Integrated Monitors in Watches
Varies (optical, ECG)
Varies
Varies
Varies
$$-$$$
Apple Watch
Garmin Forerunner

Types of heart rate monitor comparison
Chest strap monitor
A chest strap monitor is worn around your chest and measures your heart rate by detecting electrical signals produced by your heart.
Its electrodes pick up these signals and transmit them wirelessly to a connected device like a smartphone, watch, or bike computer. The chest strap monitor is known for its accuracy and is popular among athletes and fitness enthusiasts.
Key features of chest strap monitor
Accurate. Chest strap monitors offer high accuracy due to their direct contact with the heart's electrical signals.
Reliable. Chest strap monitors provide consistent and reliable readings, making them a preferred choice among serious cyclists.
Secure fit. The chest straps are designed to stay in place during cycling, ensuring that your heart rate data remains accurate.
Pros of chest strap monitor
High accuracy
Reliable readings
Secure fit during cycling
Cons of chest strap monitor
Potential for chafing
Discomfort
Regular strap maintenance required
Popular chest strap monitor models
Polar H10. Renowned for its accuracy and comfort, the Polar H10 is compatible with various fitness apps and devices. It also features a user-replaceable battery.
Garmin HRM-Dual offers simultaneous ANT+ and Bluetooth connectivity, ensuring compatibility with various devices. The comfortable and adjustable strap boasts up to 3.5 years of battery life.
Wahoo TICKR connects to smartphones, GPS watches, and bike computers. It features LED indicators for real-time heart rate data and has a comfortable, adjustable strap.
Wrist-based monitor
The wrist-based monitor, like a watch, is worn on your wrist and uses optical sensors to measure your heart rate. 
The sensors emit light penetrating your skin and reflecting off your blood vessels. As your heart beats, blood flows in your wrist changes, causing variations in the reflected light. The monitor measures these changes and calculates your heart rate, displaying it on a fitness tracker or smartwatch screen.
Key features of wrist-based monitor
Convenient. Wrist-based monitors are easy to wear, making them a popular choice for those who prefer a less intrusive option.
Integrated tracking features. Many wrist-based devices incorporate additional tracking features, such as GPS, sleep monitoring, and step counting.
Optical sensor technology. These monitors use optical sensors to detect heart rate through changes in blood flow in the wrist.
Pros of wrist-based monitor
Comfortable
Easy to wear
Often integrated with additional tracking features
Cons of wrist-based monitor
Generally less accurate than chest straps
Performance may be affected during high-intensity workouts
Popular wrist-based monitor models
Fitbit Charge 4 features built-in GPS for accurate distance tracking, 24/7 heart rate monitoring, and various exercise modes, including sleep tracking.
Garmin Forerunner 245. It is designed specifically for runners and cyclists and provides advanced training metrics, performance analytics, customizable data screens, and GPS tracking.
Apple Watch Series 6. With a high-quality, user-friendly interface, the Apple Watch Series 6 offers numerous health and fitness tracking features and is compatible with various third-party fitness apps.
Arm-based monitor
Like a wrist-based monitor, an arm-based monitor uses optical sensors to measure your heart rate. 
However, they are worn on your upper or lower arm instead of your wrist. This positioning can provide more accurate readings than wrist-based monitors since arm movements are less likely to interfere with the sensor.
Key features of an arm-based monitor
Optical sensor technology. Arm-based monitors employ optical sensors to measure heart rate through blood flow changes, similar to wrist-based monitors.
Placement. These devices can be positioned on the upper or lower arm, offering personal comfort and preference flexibility.
Adjustable fit. Arm-based monitors typically feature adjustable bands to accommodate various arm sizes and ensure a secure fit during workouts.
Pros of arm-based monitor
Less prone to interference from wrist movement
Potentially more accurate than wrist-based monitors
Cons of arm-based monitor
May be less comfortable or secure than wrist-based devices, depending on individual preferences
Limited range of models compared to wrist-based devices
Popular arm-based monitor models
Scosche Rhythm+ 2.0 utilizes PerformTek® biometric sensor technology for accurate readings and offers dual ANT+ and Bluetooth connectivity. It also features a waterproof design and extended battery life.
Polar Verity Sense provides versatility with its detachable sensor pod and adjustable armband. When used in the pool, it offers swimming metrics and is compatible with numerous sports apps and devices via Bluetooth and ANT+ connectivity.
Wahoo TICKR FIT delivers accurate heart rate and calorie burn data and features both Bluetooth and ANT+ connectivity. Its adjustable band ensures a comfortable and secure fit.
Integrated monitors
An integrated monitor is built into other devices, such as a smartwatch.
It can use either optical sensors (like wrist-based monitors) or electrical sensors (like chest strap monitors) to measure your heart rate. The chest strap monitor is usually paired through ANT+ or Bluetooth.
The integrated monitor offers the convenience of tracking multiple performance metrics, like heart rate, speed, and distance, all in one device.
Key features of the integrated monitor
Multifunctional. Integrated monitors offer a variety of tracking features, such as heart rate monitoring, GPS, and performance metrics.
Convenience. Cyclists can enjoy the convenience of having multiple functionalities in one device, eliminating the need for separate heart rate monitors.
Compatibility. Many integrated monitors connect seamlessly with other devices and fitness apps, enabling cyclists to analyze and share their data easily.
Pros and cons of the integrated monitor
Convenient, multi-functional devices that eliminate the need for separate heart rate monitors
Integration with GPS and other performance metrics for comprehensive tracking
Cons of the integrated monitor
Potential for reduced accuracy and reliability compared to dedicated devices
Often more expensive than standalone heart rate monitors
Popular integrated heart rate monitors
Garmin Edge 530 offers advanced performance insights, including VO2 max, recovery time, and training load. It also features GPS navigation with a preloaded Garmin Cycle Map, providing incident detection and assistance.
Apple Watch Series 6. Measuring heart rate using an optical sensor and electrical heart sensor, the Apple Watch Series 6 integrates with the Apple Fitness+ platform and features GPS, altimeter, and fall detection.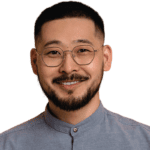 Alex Lee is the founder and editor-at-large of Mr. Mamil. Coming from a professional engineering background, he breaks down technical cycling nuances into an easy-to-understand and digestible format here.
He has been riding road bikes actively for the past 12 years and started racing competitively in the senior category during the summer recently.