In professional cycling, few stories are as fascinating and inspiring as that of Primož Roglič. From his early days as a ski jumper to his meteoric rise to the top of the cycling world, Roglič's journey is nothing short of extraordinary.
This article delves into the life and career of the Slovenian sensation, exploring the twists and turns that led him to find his true calling on two wheels. As we uncover the grit, determination, and unwavering passion that fuels his success, I'll reveal how Primož Roglič has defied the odds and become one of the most captivating figures in modern cycling.
Fun facts about Primož Roglič
From ski jumping to cycling. Primož Roglič's initial sporting success was in ski jumping. He was part of the Slovenian junior ski jumping team, winning the silver medal at the 2006 junior world cup and the world championship in 2007. After a severe fall in 2007 and retiring from ski jumping in 2012, Roglič switched to cycling and quickly made a name for himself in cycling.
Late comer in cycling. Roglič bought his first bike at 22 and began his cycling career by initially focusing on hill climbs. Within three years, he won the Tour of Slovenia, an impressive feat considering his late start in the sport.
​​Early career. Before making a name for himself in professional cycling, Primož Roglič began his journey with Adria Mobil, a Slovenian Continental team. Joining the team at 23 years old, Roglič quickly demonstrated his immense talent, laying the groundwork for his remarkable future successes on the global stage. Adria Mobil played a crucial role in nurturing the budding cycling star, who has since become one of the most captivating figures in the sport.
Rapid rise to prominence. Roglič's talent in road cycling caught the attention of scouts from Team Jumbo-Visma, a UCI WorldTour team. He joined the team in 2016 and has remained with them since, extending his contract until 2025.
First Slovenian Grand Tour winner. By winning the 2019 Vuelta a España, Roglič became the first Slovenian to win one of the prestigious Grand Tours. He has since won two more Vueltas (, making history as the third cyclist to win Vuelta a España for three consecutive years.
World championships and Olympic success. Roglič has also excelled on the world stage, becoming the first Slovenian cyclist to win medals at the UCI World Championships and the Olympic Games. He won a silver medal in the time trial at the 2017 UCI World Championship in Bergen and became the Olympic champion in the time trial at the 2021 Tokyo Olympics.
Humble beginnings. Before becoming a professional cyclist, Roglič participated in a mountain bike race wearing trainers, fat socks, and an old baggy jersey from the Française de Jeux team. He rode a cheap bike, displaying the grit and determination that have become the hallmark of his career.
A resilient character. Roglič is known for his ability to bounce back from failure almost immediately. His relaxed approach to success and defeat has endeared him to many fans and allows him to maintain a healthy balance in his professional life.
Self-taught cyclist. Roglič had to learn everything about cycling at an accelerated pace, from dressing and eating on the bike to riding in a peloton. He invested €3,000 in a bike and reached out to people in the cycling world for guidance, ultimately joining the Adria Mobil team at 23.
Risk taker. Roglič's racing style is characterized by his willingness to take risks, as demonstrated by his decision to follow Egan Bernal's wheel 60km from Lagos de Covadonga during a race, leaving his team behind. His risk-taking attitude has contributed to his numerous victories.
An inspiring story. Despite his late start in the sport and learning everything from scratch, Roglič's successes, including 17 Grand Tour stage wins, multiple race victories, and an Olympic medal, inspire cyclists and fans alike. His journey exemplifies the power of perseverance and determination in the face of challenges.
Master of time trials. Roglič's exceptional time-trialing skills have significantly influenced his success. In the 2016 Giro d'Italia, he won the rolling Chianti team time trial, showcasing his prowess in this discipline. His Olympic gold medal in the time trial at the 2021 Tokyo Olympics further solidified his reputation as a time trial specialist.
A strong climber. In addition to his time-trialing abilities, Roglič has proven to be an exceptional climber, winning the Volta ao Algarve in 2017 and claiming a mountain top stage victory at the Tour de France in Serre Chevalier the same year. His climbing skills have been crucial in his overall Grand Tour successes.
The Big 7. Besides his Grand Tour achievements, Roglič has been victorious in week-long stage races. He has won six out of The Big 7 week-long stage races (Paris Nice in 2022, Tirreno-Adriatico in 2019, 2023, Volta a Catalunya in 2023, Tour of Basque Country in 2018, 2021, Tour of Romandie in 2018, 2019 and Critérium du Dauphiné in 2022). The only race Roglič has yet to win is the Tour de Suisse, in which he never participated.
Incredible recovery. Roglič has showcased his resilience and determination by bouncing back from setbacks in major races. After crashing out of the 2021 Tour de France, he won the Tokyo Olympics time trial and claimed his third consecutive Vuelta a España victory later that year.
Fan-friendly demeanor. Roglič is known for his easygoing and approachable demeanor, making him a favorite among cycling fans. He is often seen engaging with fans before and after races, signing autographs, and taking pictures with admirers.
Breakthrough performance. In the 2017 Tour de France, Roglič announced himself as a serious contender in professional cycling by claiming an impressive stage win in the mountainous Serre Chevalier on stage 17. This victory helped to cement his reputation as a formidable climber.
A loyal teammate. Despite being a star cyclist, Roglič is a dedicated team player. In the 2022 Tour de France, after a crash derailed his overall bid, he selflessly supported his teammate Jonas Vingegaard, who won the overall title.
Unique training approach. Roglič has adopted a less traditional approach to training, often incorporating his ski jumping background into his cycling workouts. This distinctive training method may contribute to his ability to adapt quickly to the demands of professional cycling.
Record-breaking performances. Roglič has set several records throughout his career, including the fastest ascent of the Alto de Moncalvillo during stage 8 of the 2020 Vuelta a España, where he completed the climb in just 23 minutes 49 seconds.
A champion for the future. With an already impressive palmarès and a contract with Team Jumbo-Visma until 2025, Roglič is expected to continue his remarkable career in the coming years, potentially adding more prestigious titles and records to his name. His journey inspires aspiring cyclists and demonstrates the rewards of hard work, dedication, and perseverance in professional sports.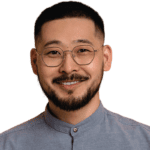 Alex Lee is the founder and editor-at-large of Mr. Mamil. Coming from a professional engineering background, he breaks down technical cycling nuances into an easy-to-understand and digestible format here.
He has been riding road bikes actively for the past 12 years and started racing competitively in the senior category during the summer recently.